6 Helpful Tips When Attending The Before I Do: Wedding And Debut Fair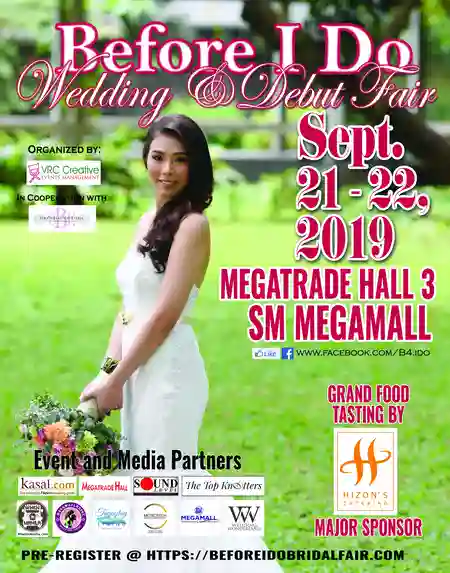 Now on its 37th run, the Before I Do: Wedding and Debut Fair happens from September 21 and 22, 2019 at Megatrade Hall 3, SM Megamall, Mandaluyong City.
It's a great place to meet some of the vendors who are– likewise– just as excited to meet you, answer your questions, and attend to your inquiries. In attendance as exhibitors at the Before I Do: Wedding and Debut Fair are: Antipolo Valley Event Center, Masiha Photo and Video, 55 Events Place, BT Collection, LeBlanc Hotel and Resort, Augustine Bridal Wear, Makeup by Miss A, Simply Cups n Cakes, Tanza Oasis Hotel and Resort, Golden Phoenix Hotel Manila, Phone2Prints, Luljetta's Place Garden Suites, Adeva Jewellery, FacesbyLynette, A. Bernardo Jewelry, Project M Acoustic, Photoman, Bounce Events Ground, J's Diamond Jewelry, Boxed PH, GDGFilm, Annasthetic Designs, and Odysseus Suarez Wedding Rings among many others.
Before you head out to the Before I Do: Wedding and Debut Fair, however, here are a few useful tips:
List your priorities and how much you want to spend on it.
Check out the date of the fair and schedule your visit with your fiancé, maid of honor or your mom.
If you hired a Wedding Planner already, have her tag along. She will be able to give you tips or introduce you to suppliers she has worked with in the past. If you haven't booked a Wedding Planner, Eventist Manila and Simply Beautiful Events are onsite. Visit them for a FREE consultation.
Do research online, ask for recommended vendors from family and friends. Click here to check who's joining Before I Do.
Save on entrance fees. Guests, couples and debutants who register here, enjoy FREE entrance when they present their event tickets at the registration booth.
Before I Do: Wedding and Debut Fair has also partnered with Hizon's catering to give you a grand food tasting and this is open for soon to wed couples, debutantes and their parents! Just register online to book your seats at beforeidobridalfair.com. A representative from Hizon's Catering will confirm your reservation. Doors open at 11:00 am daily.  So be sure to come early!
Looking for a prenup venue? Before I Do: Wedding and Debut Fair and Nana's Farm has got you covered. Click here and simply tell us why you are excited to attend #BeforeIDoBridalFair on September 21 and 22, 2019 at the Megatrade Hall 3, SM Megamall and get a chance to win a photoshoot pass at Nana's Farm and possibly an overnight stay too!
The Before I Do Wedding and Debut Fair is made possible by the much-appreciated support of our partners: Tagaytayliving.com, Kasal.com, TheTopKnotters.com, Wedding Wonderland PH, WhenInManila.com, Sound Level Productions Equipment Services, Dangwa Florist, Metrotech Rental Solutions Inc., Megatrade Hall, SM Megamall and Simply Beautiful Events.
If you plan on joining as an exhibitor, get in touch with the Before I Do Bridal Fair team via email at before.ido.bridalfair@gmail.com, or by phone at 809.3119 for more details.
The Before I Do Wedding and Debut Fair is a production of VRC Creative Events Management Corporation.