6 TIPS FOR TAGAYTAY SOON-TO-WEDS (FROM EDRIE AND JEN)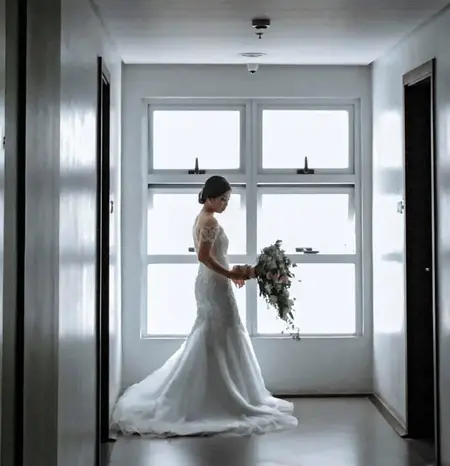 If it's one thing we learned from our interactions with hundreds of soon-to-wed couples at the Before I Do Bridal Fair series, it's that we'd all love to hear what newlyweds have to say about their own journey to the altar and wedding reception.
Advice from newlyweds are certainly most welcome, and while our fellow wedding vendors (as well as ourselves!) can dish out some tips, guides, and wedding hacks for those just about to tie the knot, sage wisdom from actual couples who have already been through the entire wedding experience– from planning all the way to the ceremony, to the reception, and all the other post-wedding activities– are refreshingly honest and pure.
We featured professional doctors and newlyweds, Edrie and Jen, just recently as they shared their love story with us and our friends from TagaytayLiving.com. Here they are today with their 6 tips for our friends who are just about to get married:
1. The Importance of Checks and Balances
"We had to keep track with our budget and put priority on what is most important for us," shared Jen. "There are challenges we encountered during the wedding preps– mostly due to disagreements regarding our decisions. For example, I wanted to book a certain supplier but Edrie didn't like them because our budget was limited. We had to stick to the budget we set. We had to always put in mind that the wedding is a testament to our love for each other, everything else comes second. Regardless of how simple our wedding would be, what is important is that this was a strong symbol of our love and commitment to each other.
2. Do Your Research
Make the most of your time at the bridal fair, Jen advises. "Lesson learned during bridal fairs: it is important to do research with the suppliers you wanted before booking them. Visiting bridal fairs is most of the time (can be) overwhelming especially if you just go there without doing research. It would be a time saver if you already had a list of suppliers in mind to visit at the bridal fair."
3. On Due Diligence
"It is vital to check the contracts, read them carefully and request all the details being discussed to be written in the contract. There might be some details written in the contracts that are not being discussed during the time you booked them that may surprise you later because your expectations do not fit the outcome. I have already prepared questions for the suppliers before booking them and then have them be clarified during the booking."
4. On Taking Things Easy
We know it's hard to just let things go, especially on your big day when everything has to be absolutely perfect. "Avoid being a pessimist. It does not help. If you are always worried during your day, it will just ruin your look and your big day. Trust the suppliers. They are there to help you. In the end, regardless of what will happen during the wedding, you will still be married and go home as husband and wife which is first and foremost, the goal of this wedding."
5. Don't Go Hungry
"Avoid starving yourself before the wedding. In my case, after the wedding, I was very hungry because I was not able to eat during the wedding," Jen recalled. With the flurry of activity going on, especially on the big day itself, you can easily lose track of time, and even forget to eat.
"It's usually a matter of overestimating your ability to go without food," explained Summer Reyes-Carullo of Simply Beautiful Events. Remember: you've already been up early for your hair and makeup, getting dressed, and for your first round of photos before the ceremony. And then you'll have the ceremony itself, more photos in between, and finally, your wedding reception.
While some well-prepared wedding coordinators have foreseen this by packing some crackers and water for the bride beforehand, it is advised that you put together your own on-the-day emergency kit (which contains a quick, mess-free snack, and a drink with a straw, among other important things).
Best advice: "Anticipate your activities for the day, and make time for a heavy breakfast– something like bacon and eggs," suggests Summer. A bit heavier on the protein and fats (hence, the bacon and eggs), and less carbs. So you don't need to worry about not fitting into your gown, while at the same time having enough energy to sustain you longer as you go through your itinerary for the day.
6. The Most Important Wedding Supplier to Book?
Edrie was quick to answer this one. "Hire a wedding coordinator. Trust us, you will need one." For their big day, Jen and Edrie booked the services of Simply Beautiful Events.
"At first we were worried that Ms. Summer would roll her eyes at our naivete and total ignorance of wedding planning," Jen confessed, "but she answered all of our questions with more patience than we both had combined. Also, she was instrumental in getting our other suppliers to toe the line, arrive on time, and avoid giving us last-minute stress."
If you need more help putting things together for your big day, come visit the Before I Do Wedding and Debut Fair, happening on the weekend of November 24 and 25, 2018, at the SM Megamall Megatrade Hall 3.
The longest-running intimate bridal event of its kind, the Before I Do Wedding and Debut Fair helps make planning your special day easier and a lot more convenient, as our featured vendors and venues are all happy to help you out with special packages and other promos just for the weekend.
Some of our participating wedding and event suppliers include the good people of:
BT Collection
The Wild Ones Videography
Grand Cobo Events Place
Godfather Shoes
Ivan Ruiz Atelier
Maru Rodriguez Artistry
Densol's Catering and Events
Global Noble International Corp.
Erick Delim Photography and Films
Felipe and Sons
Great Image Photography
Silvermoon Studios
Alon Wedding Photo and Films
Liz Rañola Photography
Antipolo Valley Event Center
Eventist Manila
Makeup by Miss A
Cactus and Canvas
Photoman
J's Diamond Jewelry
Infinity Closet
AMI Jewels
Bounce Events Ground
Studio1 Photography
Print & Co.
TEAMRED: Makeup by Red Gaa
A. Bernardo's Jewelry
A&V Studios
Polespino Photography
Diamond with Love Jewelry Shop
Nice Print Photography
Print Divas
For your convenience, click here and register, and present your ticket at the entrance to enter for FREE!
Doors open at 11:00am daily. Three (3) lucky early bird brides and debutantes gets a gift from Simply Beautiful Events. Other prizes to be given away to event attendees for the weekend include special gifts from sponsors and exhibitors during the hourly raffle draws.
The Before I Do Wedding and Debut Fair, happening on the weekend of November 24 and 25, 2018, at the SM Megamall Megatrade Hall 3 is made possible with the continuing and much-valued support of our good friends: Jeffrey Namoc Events Styling, Sound Level, Kasal.com, The Top Knotters, EventsVenuePH, TagaytayLiving.com, WhenInManila.com, Business Mirror, The Mango Farm, Mitch Desunia Bridal, Sugar Petals Enterprise & Events Management, Makeup by Anne Magadia, Imelda's Jewelry, Dangwa Florist, Megatrade Hall, SM Megamall and Simply Beautiful Events.