Adventures Of Tintin Dessert Buffet
We are extremely lucky to have worked with the friendly Fully Booked Team for the press event of the Tintin Shop at Fully Booked Fort! Using their lovely vintage travel pegs and Tintin's adventures as our inspiration, we set up an old world style canape and dessert table spread with unique decorations that span continents and eras. We used vintage suitcases, stained wooden crates, shadow boxes, a Japanese serving platter, a wooden bowl with Aztec print, a safari hat, Egyptian sarcophagi, vintage airplanes, a globe, and a mandarin red oriental cookie jar. Paper buntings made from prints of Tintin's comics, as well as food labels and cupcake toppers with Tintin imagery, tied the whole theme together.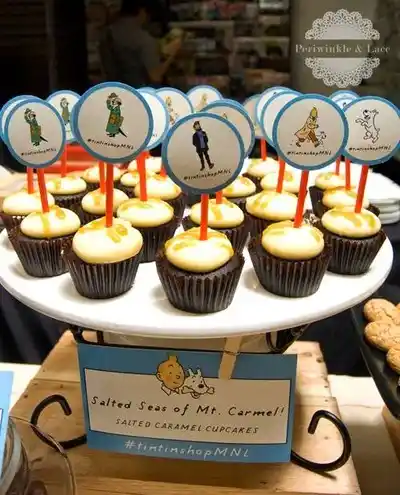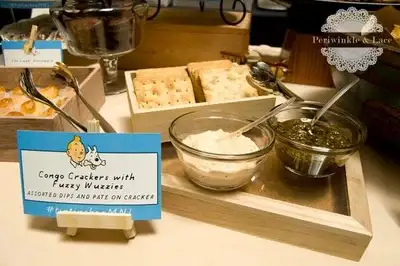 The food chosen by Aimee and the Fully Booked Team were perfect for the event – they even gave each one a Tintin inspired name for the label!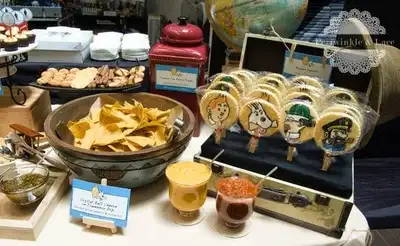 They chose egg sandwiches, strawberry shortcake petit fours, chocolate eclairs, mini salted caramel cupcakes, cream cheese and feta puffs, assorted dips and pate on cracker, nachos with salsa and dip, lemonade and iced tea. The highlight of the table is the amazing set of Tintin sugar cookies featuring Tintin, Snowy, Professor Calculus, and Captain Haddock, propped up nicely on a travel suitcase!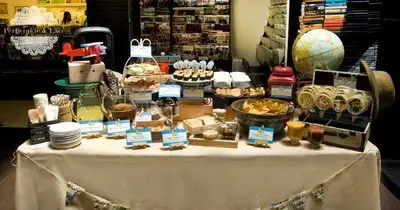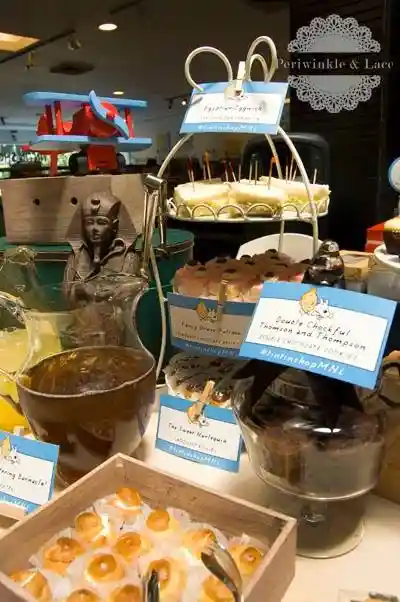 Thank you so much to Aimee and Fully Booked for letting us become part of this great event! We love the Tintin shop at Fully Booked Fort and we're eager to buy all the wonderful merchandise! For more exciting designs and concepts, check out Periwinkle and Laces at Before I Do Bridal Fair on July 25 to 27, 2014 at Megatrade Hall 1, SM Megamall!