Christian Villareyes is one lucky winner! He just won a kitchen showcase by simply booking his supplier at the Before I Do Bridal Fair that was held last April 15 and 16, 2023. This is proof that good things come to those who grab opportunities.
The Before I Do Bridal Fair is an event that showcases various wedding suppliers, from caterers to photographers to wedding planners. Christian and his partner, Rina Yeban, started to plan their wedding around February 2023. They saw the Facebook ad about the 42nd Edition of Before I Do Bridal Fair and registered online to enter for FREE.
They were overwhelmed because of the number of suppliers they encountered. After much deliberation, they came back the next day and booked Permala Photography & Videography. While booking their supplier, they found out about the Onsite Booker Raffle.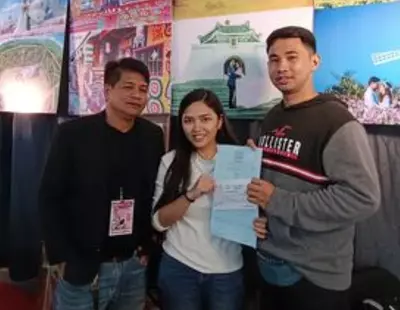 Christian was filled with disbelief when he was notified of his extraordinary luck in winning the kitchen showcase. This stroke of fortune is truly a dream come true for couples embarking on their shared journey, as they establish their home and create everlasting memories. The daunting task of determining which items to prioritize when setting up a new home is a common challenge. The question of where to invest first and what to save for later often weighs heavily on their minds. However, with the kitchen showcase as their prize, Christian and Rina can now furnish their new house in Cavite without incurring any additional expenses.
Attending a bridal fair can be overwhelming with so many vendors offering different products and services. However, for those who are thorough and strategic, these fairs can be a great opportunity to meet suppliers and start planning their dream wedding.
Christian and Rina also shared their 3 wedding tips for couples planning their wedding:

1) Plan a wedding that aligns with your budget: While everyone aspires to have their dream wedding, it is essential to adapt and consider alternatives that fit within your budgetary constraints.
2) Conduct thorough research and engage in open communication: Empower yourself with information regarding wedding themes, do's and don'ts of wedding planning, and necessary items, and engage in thoughtful discussions with your partner to make informed decisions.
3) Embrace the joy of wedding preparation: Make the most of bridal fairs by enjoying the process and having fun together. Explore the endless possibilities, discover the latest trends, and learn about the offerings from various suppliers. Who knows, you might even have the chance to participate in a raffle and win exciting prizes!
Could you be the next fortunate Onsite Booker? Secure your spot at the upcoming Before I Do Bridal Fair on July 1 and 2, 2023, at Megatrade Hall 1, SM Megamall. By doing so, you'll have the opportunity to benefit from incredible discounts, receive freebies, and, just maybe, WIN A KITCHEN SHOWCASE from Before I Do.
Registration is now open! Don't miss out on the chance to reserve your seat for the FREE Food Tasting by Hizon's Catering and secure your FREE ticket. Register now at https://bit.ly/beforeidobridalfair43!