Augustine Bridal Wear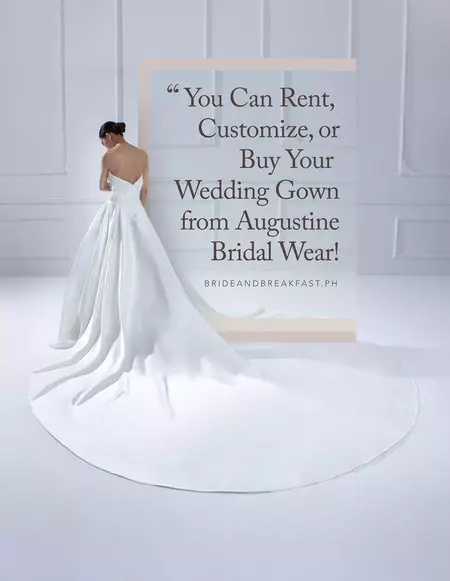 Address:
Level 3, Villa Apolonia Building, Mc Arthur Highway, Barangay Dolores of San Fernando, Pampanga
Project 8, Quezon City (by appointment)
Mobile Number: 0975 9745316
Email Address: info@augustinebridal.com
Website: https://www.augustinebridal.com/
Facebook: Augustine Bridal Wear
Instagram: Augustine Bridal Wear
Profile:
We are for the woman who plans with detail, beauty, and non-compromising taste but never loses sight of what is most important – making the happiest day of her life unforgettable. We are for the woman who understands that how much she spends has no impact on making every moment priceless.
Inspired by changing times and the smart women of today, this is Augustine. Here to help you make the smart choice when finding the one; one with impeccable quality, beauty, and taste. Whether you choose to rent or buy a wedding dress from Augustine, it is sure to be unforgettable.
Rent, buy, or customize your dress today.