Before I Do April 2017 Edition Event Briefing Reminder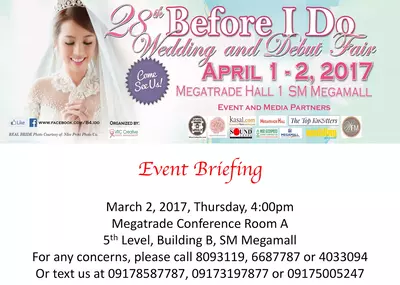 Greetings from Before I Do Bridal Fair Team!Our bridal fair is fast approaching and we urge you to send one qualified representative from your office to attend our EVENT BRIEFING on March 2, 2017, 4:00 o'clock in the afternoon at Conference Room A, SM Megatrade Center, Building B, 5th Level, SM Megamall to avoid any problems that may arise during the fair specially during ingress and egress.Things to expect during the briefing:
Discuss exhibit rules and regulations
New policy on FREE online promotions
New mechanics on how to be the next Top Booker
New mechanics on how to win during the Exhibitor Raffle.
Distribution of important documents, collaterals and complimentary tickets
Tips on what to do and how to set up
If you have questions regarding your participation, it is the best time to bring it up. Some participants might have the same concern.If you haven't received a copy of our layout for July 2017, you will receive an updated layout during the briefing. Other exhibitors have booked already. To reserve your favorite exhibit space, kindly bring your down payment and post dated checks on March 2, 2017.