BEFORE I DO FEATURED COUPLE: THE WEDDING OF EDRIE AND JEN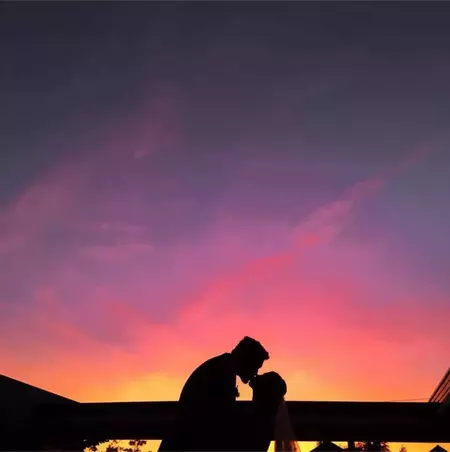 Folks, today we're featuring the story of Edrie and Jen– both doctors by profession, and newlywed couple.
Their love story began here in Tagaytay, a few years back when they were attending their Continuing Medical Education (CME) workshops at the nearby Developmental Academy of the Philippines. "It was year 2011. We were both deployed as Doctors to the Barrios (DTTB) then", Jen shares with us. "He was assigned in Marinduque while I was assigned in La Union. I knew Edrie since then but we never had such conversations because most of the time, we sit together with our classmates– me with my PLM friends and Edrie with his fellow UP alumni."
"It was during our second CME (May 2012) when we finally had a chance to talk to each other because of this activity where we were both grouped as INTJ following a Myers-Briggs Type Indicator Personality Inventory." Jen continued to tell us how they chatted about their respective experiences as Doctors to the Barrios. "It was a nice start but It didn't occur to me that this guy will, later on, express his interest in me."
THE COURTSHIP
"I knew she was the one when she took the chance after I invited her to watch a dinner and a movie," Edrie confessed, telling us he had a good feeling and decided to just go with it.
"He confessed to me that he had previous bad experiences in the past with regards to his love life," Jen chimed in. "He had some reservations and hesitations about getting into a relationship because of rough experiences in the past. He consistently called every day to ask how my day went. He wrote and sent letters to me and assured me that he will keep on doing these until I will realize that he is really serious about his feelings. It was around May 2013, just after my birthday when I prayed hard and asked for guidance regarding my decision. I took a leap of faith. I know, deep inside me that he was the one for me and he was the I've been asking for."
THE PROPOSAL
It was truly a memorable proposal for Edrie and Jen. "It was just after Christmas, 2015," Edrie recalled. "We went on a trip to Puerto Galera. I had a pizza and the ring. It was supposed to be a romantic dinner at the beach. As it turned out, the area I chose to have the dinner was poorly lit and we ended up having to hurry back to the hotel after we heard weird cries coming closer to us!"
Of course, Jen and Edrie are having a good laugh now, but at the time, their beachside dinner-and-stroll really felt off. "He was about to propose when we suddenly heard a creepy noise, someone whistling nearby which came from the trees behind us," Jen continued, picking up where Edrie left off. "It was evening time and our place was already dark because there were no light posts there. We were alone in that area of the beach. We both felt that someone is watching us from the trees around us. So I immediately asked Edrie to go back to our room and just eat our pizza inside. He was hesitant at first but he was rattled too. The whistling was hard to explain. We were exhausted because we sprinted back to the hotel!"
Jen had no idea that night would be the night when Edrie will be popping the question. "I was actually sensing some hints that he would soon propose to me because he asked me my finger size by inquiring me the glove size I wear. He tried measuring my fingers and jokingly teased me he will soon propose. While I was about to prepare myself to sleep, he showed me the engagement ring, knelt down, and asked me to marry him. I was teary-eyed. He was crying too. I said yes. He was saying he was sorry for taking him so long to propose. He said he has been wanting to marry me since our first anniversary but due to financial constraints, he had to wait for few more years to finally propose."
"It was a horror-romance story," added Edrie with even more laughter.
PREPARING FOR THE WEDDING
We asked Jen and Edrie to walk us through their process preparing for their big day.
"After the proposal, we started to talk for real about our wedding," Jen began. "We first talked about the date, venue, etc. Since we were both in medical training, we had little free time to work on our wedding. Our dates during our free time was consumed for wedding planning. Most of our plans shifted along the way."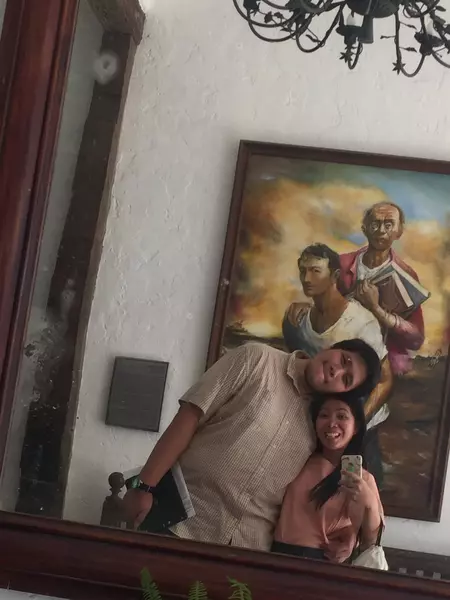 Edrie said that they both decided to be really hands-on with everything. "We knew almost nothing about how modern weddings go," he admitted.
"Initially, I wanted a garden wedding sometime in December somewhere in Tagaytay," Jen recalled. "But we had no idea how to do it. Until some of our friends who were already married, advised us to go to some bridal fairs. It was at the Before I Do Bridal fair in Megamall that we finally had some grasp as to what we had to prioritize in the wedding planning. We scheduled our next bridal fairs and decided to book our suppliers. Since most of the suppliers offered freebies and discounts, we opted to book them during these events."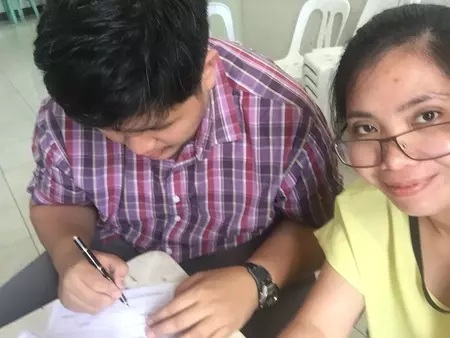 With the date and venue set, Edrie and Jen now started locking in their vendors. "We booked Hizon's catering at first, then we booked Studio1 as photographer and videographer, Majica team as our hair and makeup artists, Mjoyce printing for wedding invitations, SJT strings as our musicians, Acme Jewelry for our wedding rings, and Greenblooms as our supplier for bridal bouquet and entourage flowers."
"Bridal fairs allowed us to explore some of the suppliers. It was in the bridal fairs where we found most of our suppliers. Through visiting the bridal fairs, especially the Before I Do bridal fair series, we learned what we wanted during our wedding. It was because of booking our suppliers during the bridal fairs that the planning moved from just being a concept to reality."
Best piece of advice for couples just about to get married? "Hire a wedding coordinator," Edrie says without hesitation. "Trust us, you will need one."
Continue to Part 2 of our feature on our Before I Do Couple, Edrie and Jen, where they dispense some much-needed advice to folks just about to begin their wedding preparation journey. Big thanks to our friends from TagaytayLiving.com, and Simply Beautiful Events for helping us out with the interview.
When you're just about to put things together for your big wedding day, dropping by a bridal fair really helps. "Lesson learned during bridal fairs: it is important to do research with the suppliers you wanted before booking them. Visiting bridal fairs is most of the time (can be) overwhelming especially if you just go there without doing research. It would be a time saver if you already had a list of suppliers in mind to visit at the bridal fair."
If you need to complete your roster of wedding vendors, come visit the Before I Do Wedding and Debut Fair, happening on the weekend of November 24 and 25, 2018, at the SM Megamall Megatrade Hall 3.
The longest-running intimate bridal event of its kind, the Before I Do Wedding and Debut Fair helps make planning your special day easier and a lot more convenient, as our featured vendors and venues are all happy to help you out with special packages and other promos just for the weekend.
Some of our participating wedding and event suppliers include the good people of:
BT Collection
The Wild Ones Videography
Grand Cobo Events Place
Godfather Shoes
Ivan Ruiz Atelier
Maru Rodriguez Artistry
Densol's Catering and Events
Global Noble International Corp.
Erick Delim Photography and Films
Felipe and Sons
Great Image Photography
Silvermoon Studios
Alon Wedding Photo and Films
Liz Rañola Photography
Antipolo Valley Event Center
Eventist Manila 
Makeup by Miss A
Cactus and Canvas
Photoman
J's Diamond Jewelry
Infinity Closet
AMI Jewels
Bounce Events Ground
Studio1 Photography
Print & Co.
TEAMRED: Makeup by Red Gaa
A. Bernardo's Jewelry
A&V Studios
Polespino Photography
Diamond with Love Jewelry Shop
Nice Print Photography
Print Divas
Doors open at 11:00am daily. Three (3) lucky early bird brides and debutantes gets a gift from Simply Beautiful Events. Other prizes to be given away to event attendees for the weekend include special gifts from sponsors and exhibitors during the hourly raffle draws.
The Before I Do Wedding and Debut Fair, happening on the weekend of November 24 and 25, 2018, at the SM Megamall Megatrade Hall 3 is made possible with the continuing and much-valued support of our good friends: Jeffrey Namoc Events Styling, Sound Level, Kasal.com, The Top Knotters, EventsVenuePH, TagaytayLiving.com, WhenInManila.com, Business Mirror, The Mango Farm, Mitch Desunia Bridal, Sugar Petals Enterprise & Events Management, Makeup by Anne Magadia, Imelda's Jewelry, Dangwa Florist, Megatrade Hall, SM Megamall and Simply Beautiful Events.