Before I Do July 2015 Edition Event Briefing Reminder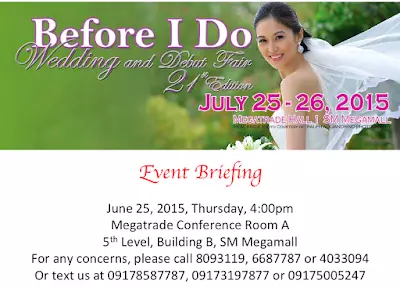 We urge you to send one qualified representative from your office on June 25, 2015 to avoid any problems that may arise during ingress and during the fair itself. To be discussed are exhibit rules and guidelines and BIR requirements for exhibitors. Distribution of important documents, collaterals and complimentary tickets are done during the briefing. It is also the time for asking questions and clarifications regarding any concerns with the fair.
Layout for 2015 events will be distributed during the briefing. To reserve your favorite slots kindly bring your down payment and post dated checks.