BEFORE I DO – WEDDING AND DEBUT FAIR 24TH EDITION PRE-EVENT PRESS RELEASE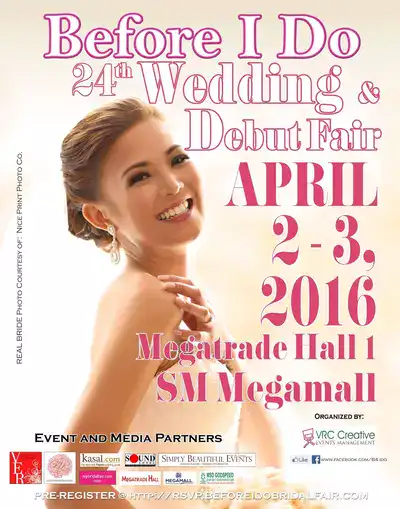 Weddings and debuts are not simply gatherings or parties that we go to, to eat, dance and bring gifts; it symbolizes a lot more than that. A wedding is a celebration of the union of two people bounded by their love for each other and their love for God; a debut is that very special moment in a young lady's life where she is introduced to the world as a strong beautiful woman who has come of age. Making these celebrations extra special for the couple or the debutant requires ample time, careful planning and knowing where to score the best deals makes a difference.
VRC Creative Events Management Corp. in cooperation with Simply Beautiful Events is launching the much awaited 24th Edition of Before I Do – Wedding and Debut Fair on April 2 and 3, 2016 at Megatrade Hall 1, SM Megamall.
This event opens its doors to not only debutants, brides and grooms but to wedding and debut enthusiasts alike. It plays host to different event suppliers in order for everyone to see their products and experience their service first hand. From venues, caterers, flowers, lights and sound systems to cakes and gowns, we have it all for you! *SM jingle
You can even book their wedding or debut suppliers on site to secure the best deals that you can possibly get! And for every 500 pesos of accumulated receipts entitles you to 1 raffle coupon for a chance to win fabulous prizes!
Before I Do is made possible with the support of Sound Level, Nice Print Photography, VER Flowershop, Kasal.com, Wedding Digest, Wedding Flavours Magazine, Megatrade Hall, SM Megamall and Simply Beautiful Events.
Avoid the long lines and register as early as today at http://rsvp.beforeidobridalfair.com to enter for FREE!
Getting excited already? Make sure to rally up your family and friends to help you in planning your big day. Mark your calendars and we'll see you there!