Book Your Wedding Cake At Teys' Cakes And Pastries!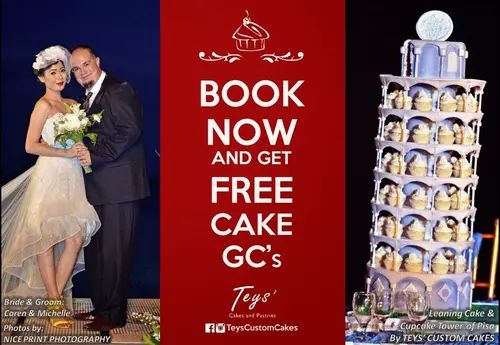 Book your Dream Wedding Cake at TEYS' CAKES and PASTRIES and receive Php500 worth of Gift Checks and Many More!
Php500 Teys' Gift Checks for every cake booking (that could be used on your next cake purchase)
Reserve your cake for only Php500 (cakes worth Php10,000 and below) or Php1,000 (cakes worth above Php10,000) instead of the standard 50% down payment. Remaining balance must be paid at least 10 days before delivery date.
Follow us on Facebook (facebook.com/TeysCustomCakes) and be entitled for 1 free mini cupcake on the event.
Sign up at our booth in the event proper and be entitled again for another 1 free mini cupcake
FREE Passes for any interested existing FB fan or clients! (Limited number of tickets)
All these, only at BEFORE I DO Bridal Fair Nov. 21-23, 2014 at Mega Trade Hall 3, Megamall!!!