Crosswinds Resort Suites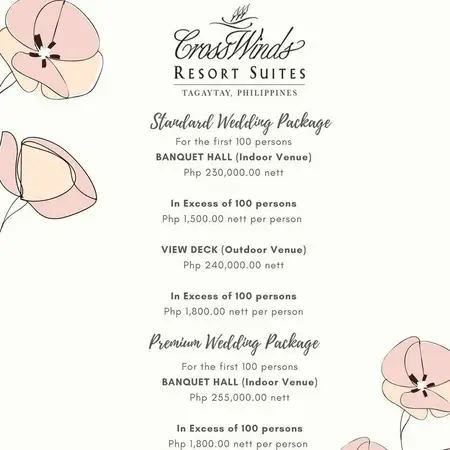 Address: Tagaytay-Calamba Road, Bgy. Iruhin Central, Tagaytay City
Landline Number: (02) 856 9601
Email Address: reservations@crosswindsresortsuites.com or banquets@crosswindsresortsuites.com
Website: http://www.crosswindsresortsuites.com
Facebook: Crosswinds Resort Suites – Hotel
Instagram: Crosswinds Resort Suites
Twitter: Crosswinds Tagaytay
Profile:
Crosswinds Resort Suites is located inside the leisure community of Crosswinds Tagaytay, nestled on the hillside of this 100-hectare development. The crisp scent of 20,000 pine trees perfuming the air and the view of rolling hills with sweeping vistas offer a welcome repose for nerves frayed and tattered by the stress of work and urban life.
Sitting atop one of the highest points in Tagaytay and away from the busy main road, Crosswinds offers a quiet alpine escape, be taken away by a beautiful stillness you almost never experience in the metro.
Let the food-tripping start in your very own room as you enjoy the benefits of having a fully-equipped kitchen, while the hotel's restaurant facilities are currently in the works. With no corkage fee, you can bring in as much food as you want and cook the day or night away, or have food delivered right to your suite's doorstep.
Everyone who travels to Tagaytay wants to escape the heat, noise, and stress of the city. Crosswinds Resort Suites takes that concept and brings it to a whole new level. Perfect for weary city folk who want to experience the windy ridge in a totally different way, this breathtaking escape is something you definitely won't want to miss.
Offering daily, weekly, and month-long stays, let Crosswinds Resort Suites help you relax and relish in the beauty of nature. Beautifully furnished, and overlooking the most breathtaking views of the mountainside, be captivated by the comfort that its suites have to offer – each at reasonable rates.