Enrico Braza's Entertainment Center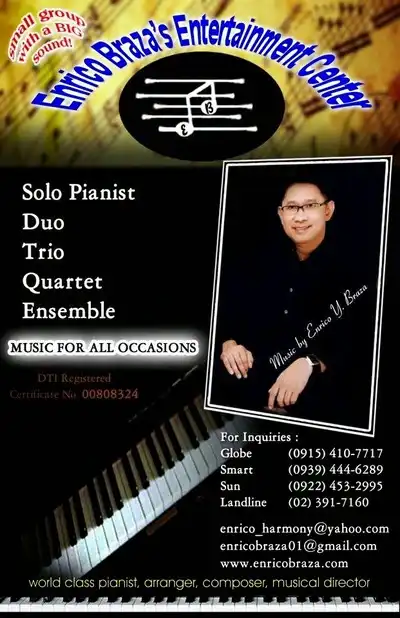 Address: Blk 44 Lot 39 St. Barbara Deca Homes Subd. Loma de gato, Marilao Bulacan 3019
Contact No:
Globe: (0915) 410-7717
Smart: (0939) 662-2330
Sun: (0933) 489-1056
Landline: (02) 553-4763
Website: http://www.enricobraza.com
Profile:
Enrico Yap Braza, nicknamed Eric, is an organist, pianist, keyboardist, arranger, and composer. He was the first Filipino representative on the last Technics World Music Festival held in Osaka, Japan, with participants from 10 countries from around the globe. The Philippines held a Best of Champions Competition in order to determine who would represent them prior to the first Technics World Music Festival. Three contestants competed, and Enrico Braza bested the others. Braza won his first trophy by placing second at the last Technics Organ Competition in 1995, held at the Cultural Center of the Philippines. It wasn't too long before he bagged the Grand Prize award when he competed in the Technics Annual Organ Competition the following year. Besides competitions, Braza has performed in concerts all over the Philippines, playing both the organ and the piano. He also was a teacher at the Technics Music Studio Philippines as well as at the Yamaha School of Music Philippines, producing award winning students.
Enrico majored in piano at the University of the Philippines Conservatory of Music. When his father died at a young age, Braza left his academic study to help support his family. In spite of not completing his degree in Music, he was able to help the family and send his brother to college, and help him eventually become a senior nurse in London.
His experience in music has been eclectic. He has been with bands that performed in 5 star hotels both in the Philippines and abroad, including Mandarin Oriental Philippines (solo pianist), Westin Philippine Plaza Hotel (show band), Shangrila Hotel Philippines (show band), Jakarta Hilton Intl. Indonesia (show band), Novotel Penang Malaysia (solo pianist), Le Meridien Phuket Thailand (solo pianist), Ana Hotel Singapore (Quartet), Commodore Cruise Line America (show band), Commodore Cruise Line America (quartet). Braza also played with clubs both local and abroad such as Club Med Sahoro Japan (pianist Duet), Union Square Club Singapore (pianist), Club 526 Yamanashi Ken Japan (pianist, accompanist), Manila Polo Club Philippines (pianist – Diamond band).