Events Republic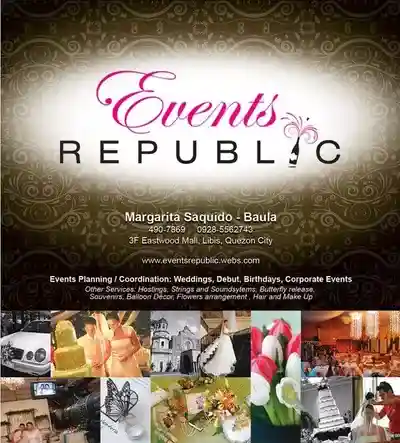 Contact No.: (632) 984-3263 | 0928-5562743
Email Address: eventsrepublic2006@gmail.com
Website: http://www.eventsrepublic.com
Profile: Events Republic was created in 2006 with YOU in mind. Guaranteed professional coordinators since 2006. They have coordinated weddings for couples from different walks of life – each one with a different story to tell, but all of them with the same happy ending, exchanging vows to love and cherish each other forever.
Having been brides themselves, they know that "budgeting" is extremely important in planning for a wedding.
They believe that each couple deserves a beautiful and perfectly coordinated wedding, no matter what their budget is.
They also know the pressure and stress that always come with a ton of wedding preparations.
They promise to give you peace of mind, the kind that comes from knowing your wedding preparations are proceeding as planned. Give yourself that much-needed time to relax and pamper yourselves by letting them take care of everything.
Because your happiness is important, it is their commitment to give you a wedding that you will truly enjoy and remember with happy memories for a lifetime.