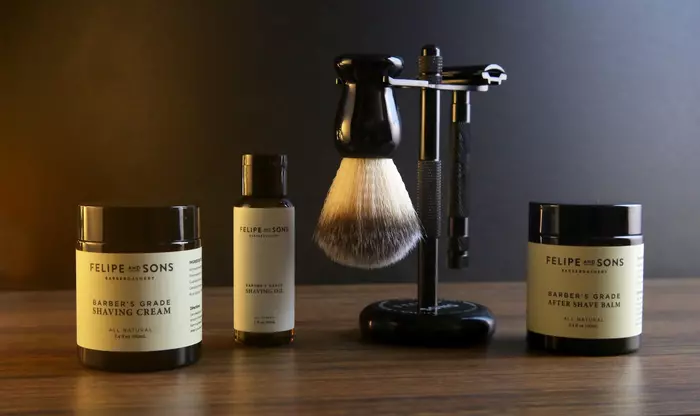 Branches:
San Agustin St., Makati
Store Hours: 10AM to 9PM
Hotline: +632 728 24 31
El Pueblo Real de Manila, Ortigas
Store Hours: 9AM to 9PM
Hotline +632 997 3724
Adamson Centre, LP Leviste St., Makati City
Store hours: Monday – Sunday, 12:00 PM to 8:00 PM
Hotline +632 750 1204
Chino Roces Ave. , Makati
Store hours: Tuesday – Sunday, 1:00 PM to 9:00 PM
Hotline +632 995 34 37
Net Quad, BGC
Store Hours 10AM to 9PM
Hotline: +632 810 09 67
Website: http://felipeandsons.com/
Facebook: Felipe and Sons
Instagram: Felipe and Sons
Lazada: Felipe and Sons
OUR MANIFESTO
First, a disclaimer: Felipe is neither a barber nor a tailor, and neither are we his sons. If you chanced upon us thinking to find a family-­owned barbershop and haberdashery, we apologize for the misunderstanding. Well, sort of.
You see, it's no accident that our name—Felipe and Sons—sounds like the type of shop that's been around for generations, the kind normally associated with longstanding traditions of craftsmanship, passed down from fathers to sons. But we do not mean to misrepresent. Far from it. Instead, we merely want to pay homage. Because Felipe and Sons is a celebration of that same tradition, and we feel duty-­bound to ensure it lives on.
Felipe and Sons was borne out of a desire to find an establishment that caters to all the grooming and styling needs of the modern gentlemen. A place where a man could get a proper shave and a clean hair cut, fit a well tailored suit and a crisp white shirt, and maybe enjoy a glass of fine whiskey, or if too early, a cup of freshly brewed coffee. A place where a man can relax as a man. Well, we couldn't find any. So we built our own.
Our barbers and tailors have been carefully selected not just for the mastery of their respective crafts, but more importantly, for their attitudes. We wanted craftsmen who understand the important role they play in the making of a gentleman. Because we believe that a man should be an easy blend of style and substance. And while we can't do anything for what is inside the man, we can damn well make sure the outside looks good.
But why Felipe and Sons?
The meaning of our name is simple: Felipe is the Philippines, and we are all his sons. Just like our fathers before us, and their fathers before them. This is our heritage, and it has given us our inspiration. For we remember our fathers and grandfathers as models of propriety—in how they acted and in how they dressed. As a barbershop and haberdashery, Felipe and Sons stands to safeguard this heritage. Just as all dutiful sons are expected to.