Free Photoshoot Pass At Nana's Farm!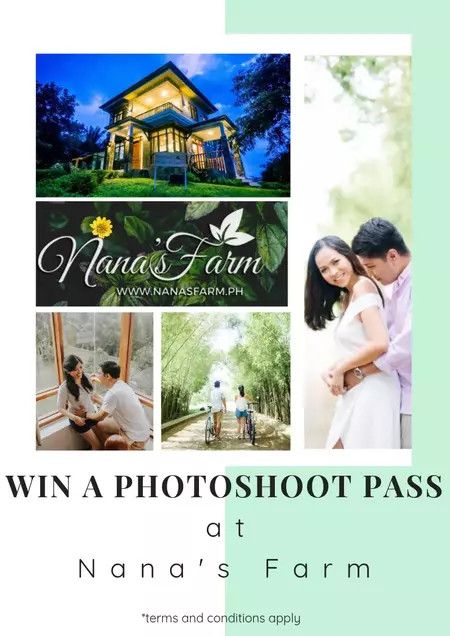 Do you need an event supplier? How about a photoshoot venue?
Get a chance to hit two birds with one stone by simply telling us why you are excited to attend #BeforeIDoBridalFair on September 21 and 22, 2019 at the Megatrade Hall 3, SM Megamall! Click here to post your answer.
Terms and conditions:
– The contest is open to all soon-to-wed couples or debutantes.
– Follow Before I Do Bridal Fair Series and Nana's Farm Tagaytay on Facebook
– The comment with the most "Likes" by September 22, 2019, wins a PHOTOSHOOT PASS at Nana's farm.
As an added bonus, if the winner of the above contest books three (3) suppliers at the #BeforeIDoBridalFair on September 21 and 22, 2019, the winner gets a free OVERNIGHT STAY at Nana's Farm on the day of the shoot!
*The winner is entitled to the following:
– FREE use of the grounds for the shoot (4 hours).
– The couple can bring in their vendors and crew (up to 8 total) for the shoot (i.e. photographer, HMUA, stylist, coordinator/planner, and other assistants)
– The couple can bring in their own food, have some delivered from nearby Tagaytay, or buy from Nana's Farm.
– The winner needs to secure the date of their stay in advance.
– To avail of the free overnight stay, the winner must present contracts or receipts of suppliers booked at the fair for verification.
– The winner must provide the Organizer/VRC Creative Events and Nana's Farm a copy of the photos taken during the shoot. Credits will be given to the photographer. The winner authorizes the use, without additional compensation, of their story and photos/video for promotion and /or advertising purpose in any manner and in any medium (including, without limitation, radio broadcasts; newspapers and other publications; television or film releases; slides; distribution over the internet; and picture date storage) the Organizer and Nana's Farm may deem appropriate.
– Any concerns arising from the use of the venue will be addressed by Nana's Farm.