Hair And Make Up By Mary Ann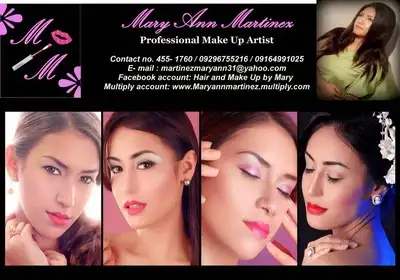 Address: 1108 Quezon City, Philippines
Contact No: 09296755216 / 4551760 / 3918759 /09164991025
Website: https://www.facebook.com/maryann.albert18
Profile: Mary Ann is a free lance business woman engage in Jewelry business, before Make-up had caught her interest. It was started as a hobby and it became a passion that made her decide to pursue her studies in the field of make-up artistry. The proof of her flexibility and love for beauty and fashion shows on her works, the moment she start to glide her brushes on your face, you will start to appreciate the precise way that she does to do a makeover on you, the dramatic tones and supple textures that she simply create is an evident of her desire to make you beautiful and make you feel more confident. Because for Mary, "making you beautiful is her priority."
Mary Ann is also a graduate of Chemical Engineering at Adamson University. She is engage in doing make up for print ads, fashion shows and other special events, specializing in weddings and debuts. Her field of expertise in bridal make up makes her decide to put into practice the airbrush make up technique, given that, this type of makeup is well- known for its long-lasting result, naturally and flawless finish creating a glowing effect and giving a sophisticated look. Giving all debutants/brides the look that they visualize themselves as they celebrate the memorable moments of their lives.
In fact, Mary Ann is well- known for producing a flawless quality make up, which makes every woman a complete eye-catcher, a Jewel in a crown. This makes her a remarkable make-up artist.