Hair And Make Up By Mary Ann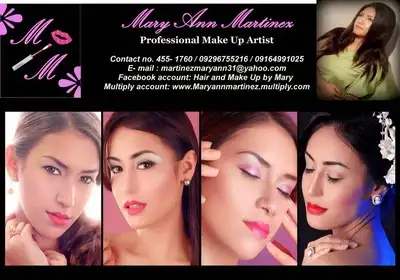 Address: 3C Borman St., Doña Faustina 1, Culiat, Quezon City
Contact No.: 455-1760 | 391-8759 | 09296755216 | 09164991025
Website: www.facebook.com/maryann.albert18
Email: martinezmaryann31@yahoo.com

Profile: Hair and Makeup by Mary Ann is well known for producing a flawless quality makeup which makes every woman a complete eye catcher. Her field of expertise in bridal makeup and her use of the airbrush technique brings a natural and flawless finish giving a glowing effect and a sophisticated look to debutantes and brides – the look they visualize themselves as they celebrate the memorable moments of their lives.