MAC, CHAI, AND THEIR BELOVED FURBABY, KING
One of our Before I Do couples included their favorite pet dog in their pre-nup photoshoot, and we have to admit, it's one the cutest things we've ever seen.
Before I Do couple Mac and Chai had their pre-nup shoot at Ten Cents to Heaven Leisure Camp (in Tanay, Rizal), accompanied not just by their photographers, stylists, HMUAs, and coordinators for the day, but also by their beloved Golden Retriever, "King".
"My husband and I are both dog lovers as manifested in the number of dogs that we have right now," confesses Chai, who is a furparent to and additional 5 Shih Tzus, a Chihuahua, and a Maltese.
Of all their dogs, King is their absolute favorite. "Although he is now four years old and enormous at that, he still makes it a point to make his presence felt by totally jumping on us and all around us when excited, and even sleeps beside us too."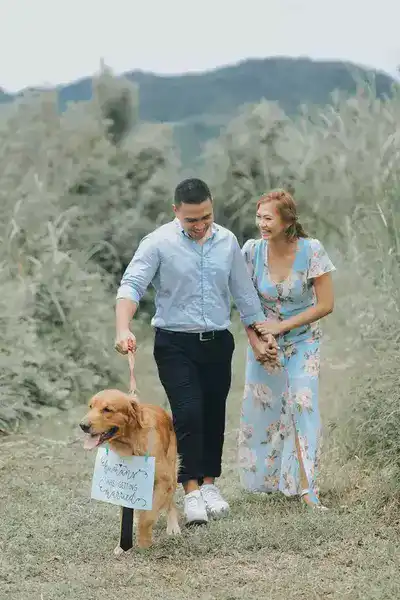 Mac and Chai originally planned to include King as part of their wedding entourage, marching alongside everyone else at the ceremony. However, the church has strict guidelines and does not allow pets during the event.
Instead, our couple decided to feature King prominently in their pre-nup photoshoot, as you can see in the photos provided by Mac and Chai. "King was trained to obey basic commands like 'sit' & 'stay' which came in handy, as the photographers was able to perfectly capture those memorable photos." If you plan to have something out of the ordinary like our couple's original plan to have King as part of the entourage, coordinate with your Officiating Priest or Minister if they will allow this.
Capably assisting our couple at their pre-nup photoshoot was the team of planners and coordinators at Key Connections Events Management. "After months of planning, we decided it's already time to find a wedding coordinator that will help and guide all throughout the (rest of the) wedding planning process," says Chai, who booked Key Connections at the April 2017 run of the Before I Do Wedding and Debut Fair.
Photography: Mediarama Creatives
Coordination: Key Connections Events Management
Styling: Indie Hippie Style
Hair + Makeup: The Makeup Kit by Ella E. Tamayo
Location: Ten Cents to Heaven Leisure Camp
View more of Mac and Chai's pre-nup photos with King here.
Before I Do – Wedding and Debut Fair
You can book highly-recommended vendors like Key Connections Events Management at the upcoming Before I Do – Wedding and Debut Fair, which happens from April 6 to 8, 2018 at Megatrade Hall 3, SM Megamall.
Now on its 32nd run, The Before I Do Wedding and Debut Fair also features other fine wedding suppliers such as the teams behind Charlene Sy Makeup Artistry, Studio1 Photography, APerfectDayWedCar, Elaine Celestino – Makeup Artist, Bounce Events Ground, Print & Co., Nice Print Photography, Hearts and Bells, Print Divas, FacesbyLynette, AMI Jewels and FYI Events, among many others.
Entry to the fair is FREE– all you have to do is visit the Before I Do website, register today, and present your provided event tickets at the registration booth on the day of the event.
The Before I Do – Wedding and Debut Fair is a production of VRC Creative Events Management Corp., and is made possible by the support of: Sound Level Pro, WhenInManila.com, Jeffrey Namoc Events Stylist, TagaytayLiving.com, WeddingsTagaytay.com, TheTopKnotters.com, Kasal.com, Business Mirror, Jenry Villamar – Photo + Video, Mitch Desunia Apparel, Imelda's Jewelry, Dangwa Florist, SugarPetals Enterprise & Events Management, The Mango Farm, Makeup by Anne Magadia, Megatrade Hall, SM Megamall, MSD GodSpeed and Simply Beautiful Events.