Makeup By Mhec Gado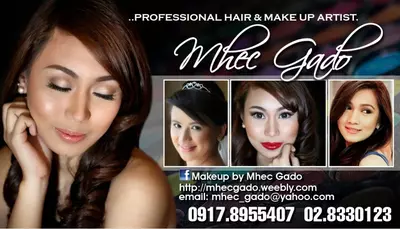 Contact No.: 09178955407
Email Address: mhec_gado@yahoo.com
Website: http://mhecgado.weebly.com

Profile: Mhec Gado is fast becoming one of Manila's sought after Makeup artists. Considering the importance of beautiful makeup, Mhec will always provide a quality, professional service, taking pride in being detail oriented , dedicated and uniquely creative.

As a freelance artist she dedicates herself to the art of makeup for Wedding, Television, Commercials, Print and other Special Occasions. Her makeup specialties include Natural Beauty, Glamour, Airbrush Makeup applications, Special Effects and Bridal Beauty.