Making The Most Of Your Prenup Photoshoot: Tips From A Tagaytay Country Guesthouse
Prenup photoshoots are a fairly recent trend that has been going on for several years now. Thanks to the availability of highly capable photographers, hair and makeup artists, and stylists, any newly engaged couple can arrange for a photoshoot at a location of their choosing.
In fact, many wedding photographers and wedding venues offer a prenup photoshoot along with their existing wedding packages. More and more couples are also taking this opportunity to be more creative and show off their personality somehow.
Nana's Farm Tagaytay is a country guesthouse located just outside Tagaytay City, in Amadeo, Cavite. While it has been quite popular on Airbnb as a vacation rental for couples and small families, it has also seen a steady increase in prenup photoshoot requests.
"Some of our old guests really loved the place and thought they'd have a photoshoot here at the country guesthouse before the wedding," says Renzie Baluyut of Nana's Farm Tagaytay.
"A lot of soon-to-weds visit Tagaytay for a quick weekend getaway," Renzie explains. "There's really no shortage of places in and around the neighborhood for a quick photoshoot."
Renzie also says that prenup photoshoots are popular because you get a lovely set of editorial photos that you can use for your wedding announcements, social media, and other special occasions like birthdays, holidays, and anniversaries.
"Here at Nana's Farm Tagaytay, we mostly had soon-to-wed couples, and even a few proposals and engagements," says Renzie about their guests coming in for photoshoots. "Lately, we've also had family photoshoots, as well as themed shoots for babies and toddlers."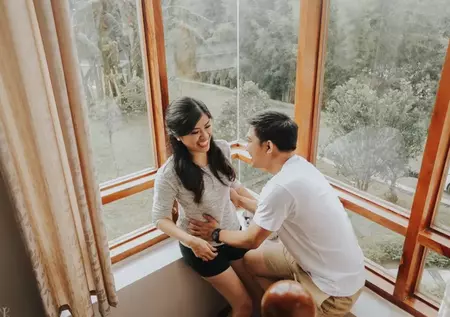 PRE-NUP PHOTOSHOOT TIPS FROM NANA'S FARM TAGAYTAY
As Nana's Farm Tagaytay has been accommodating more clients for photoshoots, they have a few tips for soon-to-weds coming to town for their own themed photo sessions.
1. KNOW WHAT YOU WANT TO ACCOMPLISH
Right off the bat, you should already know what your photoshoot is for. Usually, you'd want to have one set for your "Save the Date" announcements, and maybe another for your invitations or for just before the wedding.
How many photo sets are you prepared to finish during your shoot? "Three or four is typical, and can be managed comfortably within a day of shooting" explained Renzie.
"But we've also seen couples in Tagaytay who have had as many as six wardrobe changes, and therefore, six photo sets!"
While most couples choose to have a one-day photoshoot, there are a few others who would use an entire weekend to get the shots they want.
"Having a mood board also helps," added Renzie, "and most of our brides-to-be already have their own Pinterest boards. That way, they have a better idea of how to execute their desired theme, or incorporate a color palette they want."
2. SHOW OFF YOUR PERSONALITY THROUGH YOUR SHOOT
Renzie also says that photoshoots at Nana's Farm are all different. "The location is essentially the same, but our couples really make the effort to incorporate elements of their hobbies, their interests, or their love story into the prenup shoot."
"Some couples use pets, others bring in elaborate props and set up areas on the grounds for a certain look," he further elaborated. "Others made creative use of lighting and angles, and then there are those that wanted to capture casual moments together."
3. COLLABORATE CLOSELY WITH YOUR PHOTOSHOOT VENDORS
Aside from your photographer, you will also most likely have a hair and makeup artist on hand, and maybe even a stylist for your wardrobe changes or even your props. "Sometimes there would be other assistants setting up the next scene while the couple is doing another shoot."
Coordinating with your team of suppliers closely will let you know what's realistic within your time frame. They'll advise you on how to best maximize your time, and get the most out of your day (or weekend) of shooting.
Ask your photographer how soon you can get your pictures. "Normally, your photographer will give you a certain number of edited photos," Renzie pointed out. "But usually even the raw pics already look great!"
Just be clear what the agreed deliverables are, and if you can have the raw photos after the shoot, and when you'll be getting your polished photos. Don't forget to bring a thumb drive, an SD card, or a laptop with you!
4. PLAN AHEAD AND PLAN WELL
A lot of logistics can go into a photoshoot. "Especially if the couple is changing locations, transporting crew and equipment can eat into your allotted time," says Renzie.
He says that having contingency plans (in case it rains, for example), and properly accounting for time in between shoots (i.e. for setting up, for transport, for makeup retouching, etc.) really helps.
"Don't forget to also consider your meals and refreshments for the day," he added. Nana's Farm can provide food and drinks, but couples are also welcome to bring their own or have food delivered from nearby Tagaytay establishments for the photoshoot.
5. RELAX AND HAVE FUN
At the end of the day, your prenup photoshoot is supposed to be loads of fun, as well as an opportunity to bond as a couple and get to know your suppliers.
"Which is why our prenup photoshoots are typically packaged with an overnight stay (or two) at Nana's Farm," Renzie explained. "They'd normally use one day for the shoot, and then use another day to just relax and have some fun around Tagaytay."
PRENUP PHOTOSHOOTS AT NANA'S FARM TAGAYTAY
Couples (or families) interested in booking a photoshoot at Nana's Farm can call (+63 999) 888.6363 for inquiries, availability, and other details.
The typical photoshoot package includes:
An overnight stay for two at the private suite at Nana's Farm (check-in time of 2:00 PM and check out time at 12:00 NN the following day.)
Use of the grounds for the shoot
The couple can bring in their vendors and crew (up to 8 total) for the shoot (i.e. photographer, HMUA, stylist, coordinator/planner, and other assistants)
The couple can bring in their own food, have some delivered from nearby Tagaytay, or have the Nana's Farm staff prepare refreshments
Other options are available for a two-night stay, or just a day shoot without an overnight stay.
ABOUT NANA'S FARM TAGAYTAY
Primarily marketed via Airbnb, Nana's Farm Tagaytay has one private suite with its own entrance. It has an air-conditioned bedroom (not that you need the A/C in Tagaytay) with one queen-sized bed and a private balcony.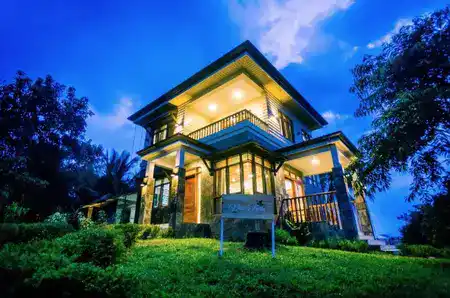 Guests usually like lounging around the living area, which has a 55″ smart TV with Netflix, Amazon, and cable. Kids like running around on the grounds or soaking it up in the private bathtub. Nana's Farm Tagaytay has strong wi-fi and is relatively close by to all the restaurants and other establishments in Tagaytay City.