MEGAMALL'S LONGEST RUNNING BRIDAL FAIR!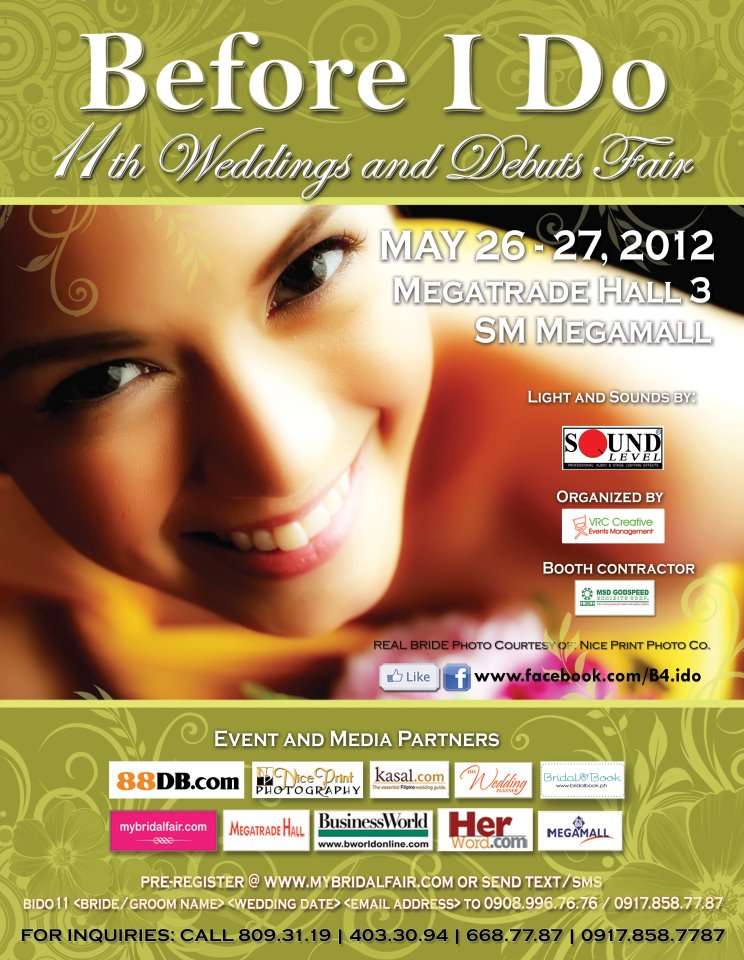 Before I Do Bridal Fair is the most popular intimate bridal show in SM Megamall!
Attending Before I Do Bridal Fair will help eaze some of the pressure of planning your dream wedding by allowing you to compare, taste, touch and see what wedding specialists have to offer – all in one (ball)room. Before I Do Bridal Fair brings you the latest trends and gives you the opportunity of connectiing with the service providers you need to create your special day. Bring your girlfriends, mom, and even your fiancé and enjoy the day.
Tips for Attending a Bridal Show
Pre-register ahead of time ( http://bid11.doattend.com/) so that you do not have to fill out forms on the day of the show. Just remember to bring your tickets! Remember, no ticket, no entry.
If you don't pre-register, make sure you register when you arrive at the show. Registering will enter you into the hourly raffle drawings.
Create a separate email address to be used while you are planning your wedding. This way you can delete it when you no longer are interested in receiving special offers from the vendors.
Bring adhesive address labels. This will save you a lot of time when you register at individual booths. Exhibitors will ask for your names, wedding date, contact number and email address so make sure to add these information to your label.
Ask lots of questions, that's what the exhibitors are there for!
Bring your cheque book in case you decide to book services or block dates with a deposit. Be sure to check on refund policies before giving any money, and read the contract carefully before signing.
Collect any information you are interested in – take it home to look over again when you have some quiet time. Don't forget to come back the next day and book your supplier! Booking between 10am to 1pm gives you a chance to double your tickets for the on site booking raffle. The lucky on site booker gets to win a 3 day 2 night stay at Hotel Vida!
If you cannot attend, send someone else (your fiancé, mom or maid of honor) to do the "window shopping" on services you need.
Wear comfortable shoes and have a great time!
See you on May 26 and 27, 2012, Saturday and Sunday, at Megatrade Hall 3, SM Megamall. The exhibition hall is open from 10:00 a.m. to 8:30 p.m.
Before I Do Bridal Fair is supported by Sound Level, Mr. Hardinero, Nice Print Photography, Business World, Wedding Planner Magazine, Wedding Flavours Magazine, 88DB.com, Bridalbook.ph, Kasal.com, Herword.com, GodSpeed Exhibits and Simply Beautiful Events.
Happy wedding preps!