PROMOS AND DISCOUNTS AT BEFORE I DO BRIDAL FAIR 12TH ED.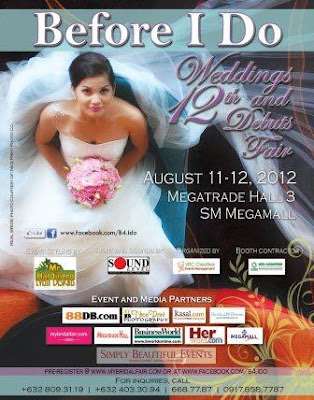 Book on-site and get the following freebies, special discounts and deals when you book your wedding with the participating exhibitors at Before I Do 12th Ed.:
*Wingdingz Invitations- 20% OFF on premium items
*RJM Photo / Video
1) For regular packages – FREE AVP inclusive of 2000 lumens projector, tripod widescreen, edited 50photos footage and technician OR Less P 5,000
2) Super discounted photo and video packages with FREE Onsite/Same Day Edit Video and Use of 42″ Digital Frame to flash 50 high resolution prenuptial photos
*Goldenhills Jewelry-
1) 20% on all items and 40% discount on selected wedding rings
2) free specially designed arrhae
3) free after sales services (engraving, resizing and cleaning)
*Nice Print Photography-
FREE AVP & LCD Pprojector or FREE Basic Lights & Sounds Mobile
*Definition Hair & MakeUp Studio – 15% OFF for the traditional makeup and airbrush makeup
*Fashion & Weddings by April Dalid-
1) Php 2,000 OFF when you book your wedding gown on site
2) Php 4,000 OFF when you book your wedding gown & entourage gowns on site
*Jessica Fernando-
1) Php 1,000 OFF on all band bookings
2) FREE 30 minute instrumental cocktail set for all band bookings
*Graphizar Designs-
1)10% discount on all on-site bookers ( booking individual and couples caricatures, giveaways for wedding sponsors and entourage)
2) 10% discount on all invitation designs and packages
3) 10% discount for on the spot caricature
*Make Up by CJ Jimenez- Get airbrush make up package for the price of traditional make up.
1) 12-pc Make Up Brush Set worth Php 1,500 for ALL on site bookings
2) FREE upgrade to Airbrush for entourage for total of 10 additional heads and up
3) WAIVED Out of Town fee for Php 20,000 and up total contract price
4) 50% OFF on Image Consulting Services by CJ Jimenez
5) 25% OFF on Photo Shoot Services and Photo Coverage by CHALK_KULET Photo Studio
*Enrico Braza's Entertainment Center
1) Php 1,000 OFF for SOLO to TRIO Packages
2) Php 1,500 OFF for QUARTET, QUINTET, SEXTET, SEPTET and up
*Fairy Tale Pre-Wedding Photography
1) 10% discount on pre-nup, tinghun and engagement styling packages
2) FREE AVP for prenup packages (worth 5k)
3) FREE prenup for wedding packages (worth 8k)
* Lindsay Lin MakeUp Artistry- 10% OFF on packages for 4pax and up.
* Indigo Suites and Pavilions
1) 20% for the first 20 couples to book
2) 10 % discount for the next 20 couples to book
*OneLove photography- avail any 2 of the following freebies when you book on site:
1) Prenup shoot
2) AVP
3) Save The Date video with story board
*Monina E Events and Marketing-
1) 50% discount on all full wedding planning and coordination package.
– Php 37,500 for our Premium Designer Wedding planning Package (usual price starts from Php 75,000)
– Php 27,500 for our Essential Full Wedding Planning Package (usual price starts from Php 55,000)
2) Complimentary wedding website for every couple that will sign up from us. Includes design, hosting and management of website for one year.
3) Complimentary upgrade to our Sensible Full Wedding Planning Package for those who will sign up for our On The Day Wedding Coordination Package (worth at least Php 20,000)
*La' Real Jewelry-
1) 40% off for Wedding Rings and Engagement Rings
2) Free for every pair of Gold Wedding Rings: Silver Replica Rings & Arrhae
*Events Embassy-
Php 2,000 OFF! Plus freebies – lotions, notepads and sanitizers!
Come back again for updates.