Realm Hair And Make-up Studio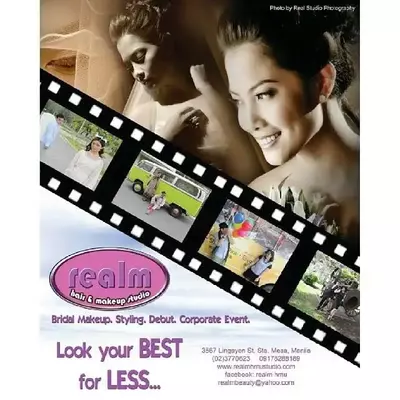 Address: 3567 Lingayen St., Sta. Mesa, Manila
Contact No.: 217-5255 | 0917-8288189
Email Address: realmbeauty@yahoo.com
Website: http://realmhmustudio.sproads.com/

Profile: REALM HAIR AND MAKE-UP STUDIO is composed of top caliber MAKE-UP STYLISTS highly trained by Make-Up Forever, Kanebo and Avon Cosmetics. Its HAIR STYLISTS were previously part of top and well known salons in the country such as Toni & Guy, Parkjuns and Ricky Reyes. Everyone at REALM has also extensive on-the-job training on commercial shoots, fashion shoots and shows, theater make-ups and bridal make-ups. Friends in the wedding industry can attest on how Realm can work under time pressure without sacrificing quality.

With more than 30 years of COMBINED experience in the beauty industry, we can assure our customers of only one thing – WE KNOW WHAT WE ARE DOING.