Teamred – Makeup By Red Gaa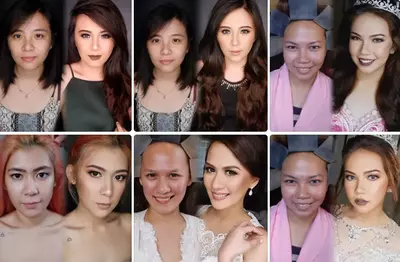 Address: Tower 4 Grace Residences Taguig City
Mobile Number:  0905 5102824
Email Address: redgaa@yahoo.com
Website: www.teamredgaa.weebly.com
Facebook: TeamRed – MakeUp by RedGaa
Instagram: TeamRed – MakeUp by RedGaa
Profile:
Red Gaa is a 27 -year old Professional / Certified – Hair and Makeup Artist. He Finished his Artistic Make Up Course at Style Studio School of Fashion and Design. And Attended Several Workshops and Seminars for Advanced Make Up and Hair Styling. He also finished a Workshops for Air Brush Makeup. and now he his a "Makeup GURU", he teaches basic Makeup to some ladies and aspiring makeup artist.
Last 2016, One of his makeup Transformation was featured in an Online International Magazine- BUZZFEED. He is the only Filipino Makeup Artist Included on the Top 19 Best in Makeup Transformation.
​
Red focuses on Revealing the Real Beauty of his clients. He believes that Make Up is an Art so play with it but make it look beautiful. Also, for him a Good Make Up Artist Should Know the Difference between Day and Night Makeup depending on the event/ occasion.
In doing his Makeup it is important for him to make sure that everything is in detail. From Cleaning the Face, Making skin Flawless and achieving a Captivating Eyes and Lips. In Determining between day and night looks. He has his own pointers: Daytime makeup should be minimalist; stick with pink tones, and nude color when it comes to lips, and keep the color within two shades of the persons' natural lips. Eye makeup should be subtle, with nothing more than some thin eye liner, mascara and a neutral shadow. Nighttime makeup can pop more, with either or both a dramatic eye or lip, and defined cheekbones.
But play with it, depending on the event/ occasion.
His Makeup kit composed of makeup products from NARS, Inglot M.A.C., SmashBox, NYX, Temptu Airbrush System and Etc.
Make Up your Life, and Play with it.
-Jude Anthony "RED" Gaa
(TeamRed)