There are many reasons why you'd want to attend a wedding fair. For starters, it's the perfect opportunity to go canvassing for vendors and suppliers for your big day, giving you an idea of how much you might be spending, and therefore how much you should be saving up for your wedding day.
A lot of the exhibitors in attendance similarly take this opportunity to offer promos and packages, so you can get better value from their offered services.
It's also a great way to scout out new trends and fun things to do at your wedding or party: what kind of souvenirs and giveaways you can give out, what are nice invitation designs, or how to style your venue may be just some of the things you can check out while you're there.
Take the time as well to have a nice friendly chat with some of the vendors and suppliers, as they have some very useful insights and suggestions as well.
One of the good things about the event market today is that with the sheer volume and variety of vendors available, you can more easily pick out a supplier that best suits your preferred style, budget, and overall vision.
Let's have a look at some of the more popular vendor categories, and what sort of trends we've been noticing lately for the past several months as far as their services go.
PHOTOGRAPHERS
You now have a wide variety of wedding and event photographers, each with their own specialization and approach. The good news is that with so many options available, having a photoshoot for just about any special occasion– not just a wedding or a debut– is a lot more feasible.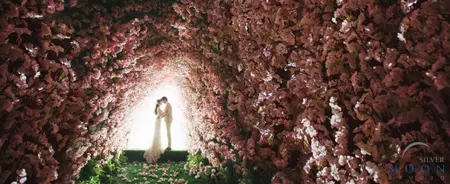 Couples have already been booking photographers and videographers for engagement shoots, announcement shoots, and post-wedding shoots.
Today, whether it's your child's first birthday or binyag, an anniversary celebration, a family reunion, an out-of-town trip, or just about any reason to celebrate, booking a capable photographer to capture all those precious memories is well within easy reach.
Of course, you can expect most of the top names to already be booked way ahead in advance.
But there are so many up-and-coming professional photographers available such as Jenry Villamar Photo & Video, and Silvermoon Studio that you can even book their services for other purposes outside wedding and events: photos for your digital marketing campaigns or e-commerce initiatives, corporate headshots, portfolio-building, real estate marketing, documentation, and so much more.
HAIR AND MAKEUP ARTISTS
ust like photographers, hair and makeup artists are now more accessible than ever.
In fact, booking a photographer almost necessitates booking an accompanying hair and makeup artist as well. After all, you'll want to look your best in all your photographs.
These days, many forward-thinking hair and makeup professionals offer three different looks for your big day: one during the ceremony, as you walk down the aisle, a second one for a more relaxed look during your wedding reception, and a third look during your preps so you can have even more photos with your bridesmaids and family before all the fun and festivities take place.
Outside of weddings and debuts, booking a HMUA like Elaine Celestino-Makeup Artistry and FacesbyLynette, for other occasions– makeup parties, bridal showers and baby showers, big corporate meetings, important job interviews, media appearances, speaking engagements, formal events, etc. is now more or less standard practice as well.
WEDDING PLANNERS & COORDINATORS
We are similarly blessed to have so many wedding planners and coordination teams. In fact, more couples and families have the option to host parties as often as they want, and so it's more common to have elaborate 60th birthday celebrations, 25th wedding anniversaries, or themed holiday family reunions now.
Sometimes even more intimate family dinners, baby showers, and kiddie birthday parties have a coordinator available for the smooth and stress-free execution of the event, and to make sure all the guests are well taken care of.
These days, many coordinators have already gone beyond same-day coordination packages such as FYI Events, SugarPetals Enterprise & Events Management, and Simply Beautiful Events requiring a longer lead time to do all the necessary coordination work checking on all your event vendors, guest attendance, logistics, and program flow.
Having a larger event headcount and more suppliers understandably require much more work, so expect the better wedding planning and coordination teams to go through everything with a fine-toothed comb to get everything sorted out right for you.
A FINAL WORD OF ADVICE
Regardless of who you're considering booking for your big day, always do your due diligence. Look into client reviews or recommendations from your other trusted vendors and suppliers.
Cheap doesn't always mean value for money, in the same manner that more top-range packages might not actually be better for you in the grand scheme of things.
Always go for reliability and transparency when it comes to your vendors. You want someone who has adequate attention to details and processes like having a contract or a similar service agreement, and someone easily accessible for when you have questions and other concerns.
In fact, we can say that one of the best things that can happen is that you might find a suki photographer, HMUA, or coordinator who can help you out with your other requirements well after your wedding, debut, or special event.
THE BEFORE I DO BRIDAL FAIR SERIES
Looking for a few more wedding vendors to complete your roster for your big day? Among the many photographers, hair and makeup artists, and coordinators available, you'll find a lot more suppliers for your event requirements.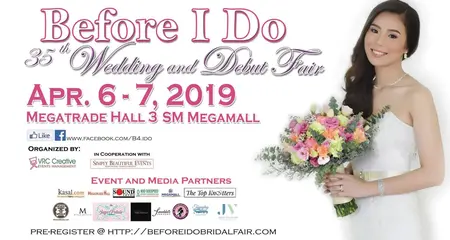 The 35th Before I Do Wedding and Debut Fair happens on Saturday and Sunday, April 6 and 7, 2019 at the SM Megamall Megatrade Hall 3, with over a hundred wedding vendors and suppliers you may want to check out in time for your wedding day.
Visit www.beforeidobridalfair.com, the official Before I Do website, and register today to enter for FREE upon presenting your event tickets at the registration booth. Or get in touch with the Before I Do Bridal Fair team via email (before.ido.bridalfair@gmail.com), or by phone at 809.3119 for more details on joining as an exhibitor.
Some of our featured exhibitors in attendance include Mick Perez Couturier, J's Diamond Jewellery, Diamond with Love Jewelry, Taters, Phone2Prints, Invitation Design by Kenneth Uy, Adeva Jewelry, The Wild Ones Videography, Print & Co., BT Collection, and Joseph's Flower Shop.
The 35th Before I Do Wedding and Debut Fair is a production of VRC Creative Events Management Corporation, and is made possible by the continued love and support of our event partners and sponsors: Sound Level Pro, WhenInManila.com, TagaytayLiving.com, TheTopKnotters.com, Kasal.com, Jenry Villamar – Photo + Video, Mitch Desunia Apparel, Imelda's Jewelry, Dangwa Florist, SugarPetals Enterprise & Events Management, Makeup by Anne Magadia, Megatrade Hall, SM Megamall, and Simply Beautiful Events.