The Red Pencil Strings And Musical Services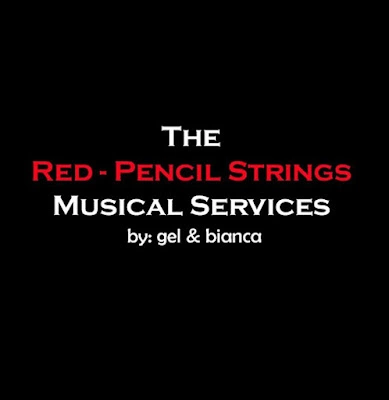 Contact No:
Globe – 063-915 – 426 26 05
Sun – 063 – 923 -644 27 44
Website: www.theredpencilstrings.wix.com
Profile: Music is an art, a science and an intrument to help us express our emotions; a diversion of notions that are way beyond words can express. It may offer solitary confinement, a momentary shelter to make us feel understood and comforted. Music makes us feel at home…secured…invincible. From ancient til modern civilization, music has been the embellisher of special events or occasions and it has never ceased to entertain and touch the lives of people from all walks of life.
The Red-Pencil Strings was founded by Ms. Gel Alonte and Ms. Bianca Loren Tirado, to bring you sophisticated and distinctive talents for various occasions. From prestigious universities and some came from a family of musicians, the group was established to give full entertainment to different occasions and establishments.
At the age of 4, Ms. Gel Alonte started playing the violin. She was the youngest among the group when she joined the "Pasaknungan" at the "Nayong Pilipino". Then later on widened her skills and learned to play the piano as well. After several years, Gel met Bianca, a nurse by profession, helped her come up with this group, and brought all their ideas to reality. Through their initiatives and expertise, credible artists were pooled and paralleled, and were finely collaborated to make sure that the group will meet the expectations of different guests. The company is becoming more popular and so far successfully handled events such as weddings, birthdays, corporate events and other special gatherings.
From classical, pop, standard, jazz, broadway, OPM, bossa nova, rest assured that The Red-Pencil Strings can entice your senses through beautiful renditions of different genres.
From solo, duo, trio, quartet to ensemble, total performance should be expected. Connection with the guests plus well tuned performers to provide very good rendition of music — that's our distinction.