Under The Rain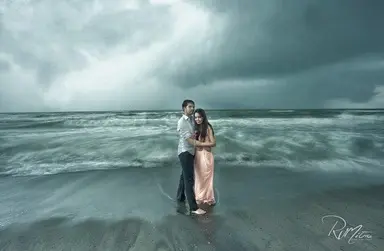 Khris and Jeanie's engagement session is one which I will always remember. The bright and sunny beach-themed prenup that we had planned was rescheduled twice already because of the inclement weather, and when we finally pushed through, the rain was even more intense.
So what did we do? I wrapped my camera in plastic and photographed in the rain. To add light, I placed my flash in the pocket of Khris, let it bounce over the umbrella creating a soft light over them. When the sky temporarily cleared, we ran towards the shore, with my assistant holding the flash and following the couple. I did not have a chance to change my lens so I ended up using the 100mm macro. Hahaha. Nevertheless, we had a dramatic set that I am truly proud of.
RV Mitra
Book RV Mitra Photography at Before I Do Bridal Fair 17th Ed. at Megatrade Hall 1, SM Megamall on April 4 to 6, 2014!