Wedding videographers not only cover the most important moments of your big day but through a bit of creative filmmaking and editing, they can also give your wedding video a lot more drama and emotion.
Many professional video services companies, in fact, have decided to specialize in wedding videos. Add to that the fact that many video production companies have grown a lot more sophisticated in terms of technique, style, and creativity, and the result is that you have such an amazing variety of wedding films from just the last few years.
Here in the Philippines, you'll find no shortage of very capable wedding videographers, as soon-to-wed couples from all over— whether locals, OFW professionals, or foreigners— have had their videos done by teams that have honed their video production skills and gained their expertise crafting wedding films for all sorts of clients in the local wedding scene.
With that in mind, we'd like to share with you some of the hottest trends in wedding videography we've seen this 2019 (and are likely to see for years to come.)
TRENDS THAT ARE ALMOST STANDARD
Probably because of their proven impact as crowdpleasers wedding after wedding, these wedding video techniques have almost been a staple for just about every single wedding videography team today.
1. DRONE SHOTS
Thanks to modern-day drone technology, wedding videographers now have another handy tool for taking sweeping exterior shots or a dramatic fly-by of the venue and countryside.
Drone shots have been around for a while, but just like same-day-edit wedding videos, they have now become almost standard for many wedding video production teams. More creative executions of a well-placed drone shot to allow for footages and perspectives you normally wouldn't be able to pull off otherwise.
Especially if you have an outdoor wedding, or if the exterior of your venue is particularly picture-perfect, ask your videographer if they fly drones— it makes quite the breathtaking shot, bringing just a bit more magic to your big day.
2. SAME-DAY EDITS (SDE'S)
It's not enough to show all the secret, behind-the-scenes moments from couples' wedding days, from the preps to the ceremony to the wedding reception. Most wedding video production groups today are adept at putting together a quick the-day-that-was highlights reel to show that same night for all to enjoy.
Here's one such video by Erick Delim Photography and Films
Choice footage is taken during wedding preparations, the ceremony, and the wedding reception. Later in the evening, after dinner, you all get to watch a beautifully shot highlights reel of the day's events leading up to your grand entrance as a newlywed couple.
It's a technique that requires a well-coordinated team of videographers and editors. The finished SDE film is a guaranteed hit among your family and friends in attendance, and can easily be one of the more emotional highlights of your big day.
3. INDIE DOCUMENTARIES
Many videographers are also aspiring filmmakers, which means they're also storytellers by heart. By booking the services of a wedding videographer on your big day, you're also allowing them into your life to help you write yours.
Wedding videos today are now a far cry from how they've been done 10 or 20 years ago. A lot of them now are more like very personal and intimate short films. Artistic and stylish, these videos have just enough narrative elements, perhaps even a plot to keep the audience enthralled the whole time.
From "wake up" to make up to send off, your wedding videographer can give you a polished short film that's almost like an indie documentary, with you two as the main stars amidst a stellar cast of family and friends.
Truly gifted wedding production teams can deliver you a share-worthy, high-quality video you, your family, and friends will actually want to watch over and over again.
Here's one by The Wild Ones Videography
4. SAVE-THE-DATE VIDEOS AND WEDDING TRAILERS
We're huge fans of save-the-date videos and wedding trailers. Especially today when couples really bring their A-game and take this opportunity to really have some fun with a concept that might easily be a music video, a movie promo, or a fancy TV commercial.
Here's one made by Silver Moon Studio
Shot months ahead in advance of the big day, save-the-date videos and wedding trailers are a joy to watch, showcasing the couple's personality and preferences, while allowing them to live out their Hollywood fantasies even just for a few short minutes of film.
NEW TRENDS WE ABSOLUTELY LOVE
Certain film techniques can be quite ambitious, but if executed correctly, these can be absolute show-stoppers. Of course, this also separates the wheat from the chaff— as these treatments are highly specialized, they may require a lot more in terms of coordination, editing, and manpower in general, not to mention sheer talent and ability, to successfully pull off.
Here are a couple of wedding film styles that we find absolutely amazing. If you like these styles as well, and you're shopping around for a wedding videographer, you might want to ask them if they can do something like these for your special day:
5. 3D PHOTO MONTAGES
One of the most interesting trends out now when it comes to wedding video production is the 3D wedding montage.
A lot of the footage is shot prior to your big day, and the still images are digitally enhanced to appear in glorious 3D. The result is an incredible, stylized piece of work that brings all those little details and emotional highlights to life.
Executed well, your 3D wedding montage can be a real showstopper. It does require a lot of prep time to edit and produce, so while it might be a bit pricey, the final product is a one-of-a-kind movie you and your guests might want to watch over and over again.
6. FREEZE TIME FOOTAGE
Think of this as a leveled-up Mannequin Challenge, properly supervised, directed, and shot by a capable wedding video production team.
It might be a challenge to get your guests to cooperate with you for an ambitious group shot such as this, but if you're somehow fortunate to wrangle all your VIPs together and get everyone to play along, the result can be quite amazing.
An alternative is to work just with your entourage, or just select family and friends, but as you can see how much more grandiose the effect is if you somehow get all your regular guests in on this fun little project.
OTHER WEDDING VENDORS WORKING WITH YOUR VIDEOGRAPHER
Wedding films certainly aren't created in a vacuum, and the best wedding video production teams will tell you that bringing your grand vision of a dream wedding to life is definitely a team effort.
Wedding photographers and videographers frequently work synergistically so both teams get the shots they want while ensuring that they stay clear away from the other's shots in progress.
Your hair and makeup artist will be on hand to retouch you or otherwise make sure you look spectacular at any time, and at any given angle. You will likely also have a wedding planner or a wedding coordination team to make sure everything runs smoothly on your big day, allowing your video team to take all the shots they need.
Your event stylist and florist will also work their magic so that your wedding ceremony looks fantastic. They'll also bring their one-of-a-kind skills to spruce up your wedding reception venue, working with all your vendors there— your caterer, your wedding cake, your lights and sounds system, and others to make sure everybody— your friends, family, and guests, most certainly, but you most importantly— has a fun time together.
THE 38TH BEFORE I DO WEDDING AND DEBUT FAIR
Looking for a wedding photo and video team to work on your save-the-date announcements and wedding trailers? You'll find a number of very capable wedding video production teams who would love to be your official videographer for your upcoming dream wedding.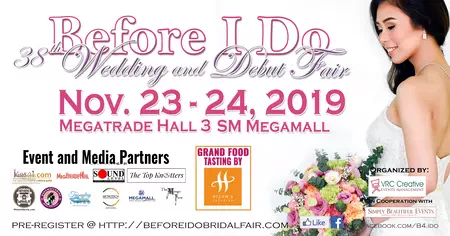 Talk to our selection of wedding vendors and suppliers– photographers, jewelers, caterers, venues, hair and makeup artists (HMUAs), and coordinators, among others– take the time to sit down with them to share your ideas and preferences, and see if they can achieve the final product or look you really want.
The 38th Before I Do Wedding and Debut Fair happens on Saturday and Sunday, November 23 and 24, 2019 at the SM Megamall Megatrade Hall 3, with over a hundred wedding vendors and suppliers you may want to check out in time for your wedding day. The floor is open from 11:00 AM to 8:30 PM.
We're showcasing a free food tasting by the good people of Hizon's Catering at the event, so sign up for that ahead in advance at our website, beforeidobridalfair.com.
Register today to enter the fairgrounds for FREE (upon presenting your event tickets at the registration booth by the entrance). Get in touch with the Before I Do Bridal Fair team via email (before.ido.bridalfair@gmail.com), or by phone at 8809.3119 for more details on joining as an exhibitor.
Some of our featured exhibitors in attendance include Artistry by Maru Rodriguez, Diamond with Love, J's Diamond Jewelry, T. M. Lewin, Sep Vergara Fine Jewelry, Shades by Shella Makeup Artistry, and Bellapix Photobooth.
The 38th Before I Do Wedding and Debut Fair is a production of VRC Creative Events Management Corporation, and is made possible by the continued love and support of our event partners and sponsors: Hizon's Catering, Sound Level, WhenInManila.com, TagaytayLiving.com, TheTopKnotters.com, Kasal.com, The Mango Farm, Dangwa Florist, MetroTech, Megatrade Hall, SM Megamall, and Simply Beautiful Events.