Why Attend A Exclusive Food Tasting?

What's the difference between a GRAND Food Tasting and EXCLUSIVE Food Tasting?
Exclusive Food Tasting concept was created with an idea that all attendees are selectively and exclusively invited. Grand Food Tasting has a bigger crowd of attendees compared with Exclusive Food Tasting that has limited and small number of attendees.
What makes Blu Plates different from the rest?
Blu Plates was created by Chef Velmor of the PurpleDish Group. It has 3 unique offerings that will surely excite you and your guests, the thematic tablescape of Stylento, the extensive menu of all american classic cuisines and a bottled dessert concept that will also serve as your souvenirs. These 3 unique inclusions of Blu Plates package will stand out from the rest.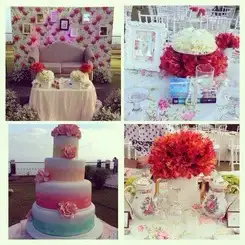 Why attend an Exclusive Food Tasting by Blu Plates?
*Sample their menu
Blu Plates by Chef Velmor specializes in Classic American cuisine what couples can sample during the Exclusive Food Tasting. From appetizers to desserts, couples will surely fall in love to the sumptuous meal prepared by Blu Plates at Before I Do Bridal Fair 17th Ed. Truly something new that both bride and groom should explore.
*More time to ask questions
Since there are limited couples to entertain, the Event Officers can give more time to answer your queries. Feel free to discuss your dream set up and menu.
*More freebies when you book on the spot!
If you sign the agreement and make a down payment during the fair you can avail of the following:
FREEBIES:
FREE CANDY BAR BUFFET by Sweets By Love
** Good for 50 pax for every booked couples.
FREE FONDANT CAKE
** 3 layer (bottom edible) fondant cake for every booked couples.
DISCOUNTS: note – can be accumulated
BLACK KITCHEN DISCOUNT
** For every booked couples, get 20% discount when you dine in at PurpleDish's new restaurant, Black Kitchen at Cocoon Boutique Hotel, Scout Tobias cor. Scout Rallios Sts., Quezon City.
LESS 10% DISCOUNT
** Book Two (2) Co-Exhibitor at the Bridal Fair. Just present Invoice / Receipt of the Exhibitor in order to avail the discount.
LESS 5% DISCOUNT
** For bookings with 200 guests and up – Terms and Conditions apply.
20% DISCOUNT or FREE DESSERT BUFFET STATION
** If you pay 50% of the contract amount, you will get 20% discount or dessert buffet station worth PhP 19,000 (for 150pax)
SOMETHING EXTRA:
PHOTO and POST
** Take a photo of the exclusive food tasting event and post it in INSTAGRAM with hashtag #bluplates or in FACEBOOK and TAG PHOTOS to Chef Velmor Facebook Account (search ChefVelmor PD). Ten (10) winners will be chosen to win PhP 3,000 worth of dessert upgrade.
MAJOR RAFFLE: STYLING PACKAGE WORTH PHP 50,000.00 by Stylento
** One (1) raffle coupon per booked couple. This entitles you to join the major raffle. (Raffle will be drawn at 8:30 PM on April 6, 2014, Sunday)
Who can attend?
Not everyone can attend the Exclusive Food Tasting, basically because it is exclusive to 60 couples per day (30 for lunch and 30 for dinner).
How to reserve a seat?
Step 1 – Visit www.bid17.doattend.com and identify how many are attending the bridal fair.
Step 2 – Check how many will attend the food tasting.
Step 3 – Fill out the form and check the Terms and Conditions box for the food tasting.
Step 4 – Click SUBMIT and that's it!
Each attendee will receive 2 event tickets via email. One ticket is for your FREE ENTRANCE at Before I Do Bridal Fair and the other one is for your SEAT RESERVATION for the Exclusive Food Tasting. Please PRINT the TWO event tickets. NO ticket = NO free entrance.
Note – If you are the ticket buyer and you are also attending the fair, please include your name and email address in the attendees detail box in order to receive your ticket. Kindly check your SPAM box if you don't receive any email from Doattend.com in your INBOX.
An Event Officer will give you a call to confirm your reservation and to schedule your food tasting. Remember, there are limited slots per day. This will ensure you that Event Officers can give you their full attention when you arrive. If you haven't received a call from Blu Plates by April 2, please feel free to call Blu Plates at 400-7616 or text 0925-8826049 from 9am to 6pm. Please include the couple's name & event date when texting. You will also receive an email from Blu Plates reminding you of your confirmation and the freebies and discounts that you can expect when you book Blu Plates at Before I Do Bridal Fair 17th Ed.