WHY IS A WEDDING BUDGET IMPORTANT?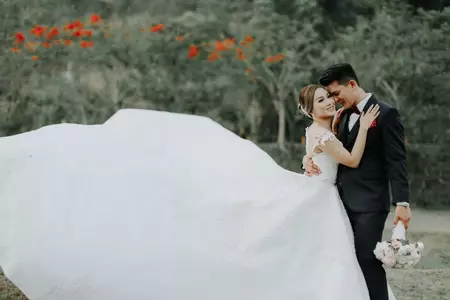 Your upcoming wedding is indeed a once-in-a-lifetime occasion. In all likelihood, you've been preparing for this day for a long time now.
Weddings are fun, pretty, and an opportunity to make your dreams come true. And this is where the wedding budget comes in: it grounds you in reality, telling you what you can do with your available funds and resources.
The wedding budget is the crucial first action item of any wedding planning effort. It allows you to see the bigger picture, it narrows down your selection of venues and vendors, and it lets your wedding suppliers know how to best help you on your big day.
"Our main challenge is the (wedding) budget," says Zee, who recently got married to Raph at a beautiful out-of-town wedding at Tagaytay Highlands. "You want to book (certain wedding vendors) because you want your wedding to be perfect!"
Raph & Zee shared that it's the little details that can easily stretch your intended wedding budget beyond its limits. "Like these personalized stamps for our wedding invites. This is just a small detail, but actually, it's still an added cost that (in retrospect) was not soo useful for us since it was only used for photos."
It was during the wedding planning stage that Raph & Zee realized these little extras and add-ons were eating into their allotted budget for their big day.
"Our realization during the wedding preps was to not stress yourself on little things," explained Zee. Raph added that they chose to focus rather on items they felt that everyone will truly remember, like the catering, the photos and videos, and the entertainment at the wedding reception.
Our Best Advice for Soon-to-Weds: "Your Wedding, Your Rules"
Raph & Zee fondly remember their Tagaytay wedding, and they felt most of what they did was just right.
"We're proud to say that not a single centavo was borrowed just to pull off our dream wedding," beams Zee. "Wala kaming inutang (we didn't borrow any money)," she proudly adds.
If Raph & Zee had one piece of advice for soon-to-weds, it's this: "Don't go bankrupt just to impress your guests. After all, it's your wedding anyway. Your wedding, your rules." Raph also suggested that "if you want a simple wedding, go for it. And if you want an extravagant wedding, go for it as well– as long as it is within the budget, it should be no problem!"
Zee also pointed out the importance of sticking to and being firm with your wedding budget. "Don't stress yourself on little things," says Zee. "Instead, focus on what you want to (really) highlight."
Other Bits of Wedding Advice from Raph & Zee
"When visiting a wedding fair, do your research. Check out the list of suppliers who will be joining the fair, and if you're 100% decided on them, book them at the bridal fair so you get discounts and freebies."
"Before your wedding day, you know you want to look your best in all your photos and videos, so go on a diet! Do not eat too much, but don't starve yourself either!"
"Don't stress yourself during wedding preps. Instead, enjoy the process as it's also bonding time for you and your soon-to-be hubby too."
"Avoid drinking wine or any liquor the night before the wedding just so you can sleep, it won't help! Haha! I did this and feeling soo lutang in the morning!"
"Avoid being negative during the wedding. I mean, like if you feel like your suppliers won't make it on time or they cannot do their work, don't think of any negativity. Trust your suppliers; they are your angels during your wedding."
"Let go and let God."
"Smile for the camera!"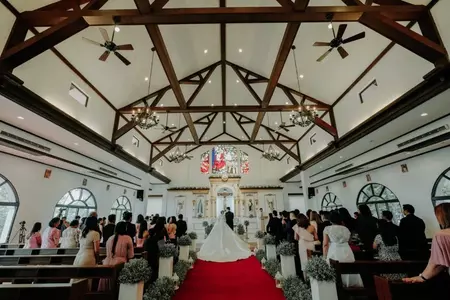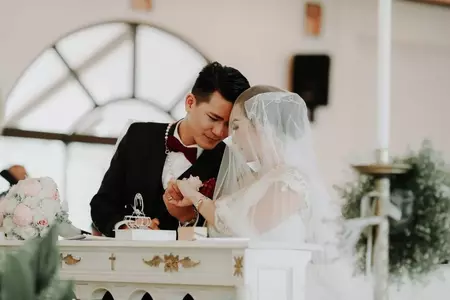 About Raph & Zee
By the time Raph & Zee had their Tagaytay Highlands wedding in the summer of 2018, they were already married for four years.
Looking back at their love story, Zee thought that her dream wedding wouldn't ever push through. "You know how they say 'pag civilly married na, ayaw na mag pakasal sa church because gastos lang?' (when you've already had a civil wedding, you likely won't have a church wedding anymore because of the extra expenses?)"
She says that they both had to work doubly hard to save extra money to push through with the church wedding that they really wanted. "Plus, we are (both) Catholic, and we want to have the blessing of our Dear God," Zee explained.
She also explained that as they were already married anyway, she never really expected a proposal coming. Even as they were hard at work putting together their church wedding plans.
Nevertheless, Raph managed to pull off a proper wedding proposal. "It was three weeks (to go) before our church wedding," Zee remembered. "Despite our busy schedule with work and wedding preps, he was still able to pull off this surprise with the help of our best man and our maid of honor."
Zee related that they were having dinner on a cruise ship for their anniversary, and had no idea the staff and crew were in on the plan. "I was on cloud nine, and I can't explain my feelings," she gushed. "Ang saya saya pala that your husband is kneeling in front of you. still asking you to marry him even you're already married!"
Zee says her husband is the sweetest ever. "He wouldn't let the time pass without proposing daw because he thinks I deserved it."
Vendors and Suppliers
Raph and Zee were able to book some of their suppliers at the Before I Do Wedding and Debut Fair. But one particular vendor that really made the impression on their big day was Eventist Manila.
"Grabe! They were my angels during my wedding. Our wedding wouldn't be successful if not for them," says Zee of the wedding coordination team of Eventist Manila.

"They gave their best from coordinating with my entourage and other suppliers to preparing all the materials and distributing the crew meals. The preparation and the wedding itself went smoothly– they are the ones who arrived first at the wedding preps and they will really help you in everything they can," said Zee, particularly giving props to Adora, Shiela, and Jayjay.
Here are Raph and Zee's vendors and suppliers for their Tagaytay wedding:
Church: Madre de Dios Chapel Tagaytay Highlands
Wedding Reception Venue: Tagaytay Highlands and Midlands
Caterer: In House, Tagaytay Highland Country Club, Tagaytay, Philippines
Wedding Photography/Videography: Nice Print Photography & Exige Weddings Team Stephen for Photo and Team Paulo for Video
Reception and Church Stylist: Events Central By Anna Winstel
Entertainment: Manila Wedding Singers and Strings
HMUA: The Face Mantra by Malick James Hilado
Bridal Robe: Styling by Yvonne Camay
Host: Iriz Cruz Lintag
On the Day Coordinator: Eventist Manila
Lights and Sounds: Artuz101 Professional Lights and Sound System
Brides Shoes: JIMMY CHOO
Grooms Shoes: Black Wing Shoes
Wedding Gown: Louis Pangilinan
Grooms Suit: Exclusively His Tailoring
Entourage and Mother's Gown: Louis Pangilinan
Photobooth: Party Photobooth Cavite
Cake: Tourist Cakeshop
Principal Sponsor Gift: Cheeseboard with tools by Thoughtful Supply Co.
Groomsmen Gift: Astrid Leather
Invitations: Print and Co.
Crew Meals: Kroo Meals PH – Tagaytay
Bride Prep Venue: Woodlands, Tagaytay Highlands
Groom Prep Venue: Belleview, Tagaytay Highlands