How Can I Better Maximize My Bridal Fair Marketing Budget?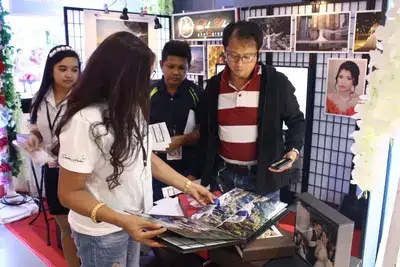 Joining trade shows can be costly if you do not plan for it. Here are a few tips for wedding fair exhibitors to help them save money on marketing expenses when attending a bridal fair.
For many wedding vendors, the challenge of constantly attending bridal fairs as exhibitors is all too real. While bridal fairs are a great way for suppliers to connect with soon-to-weds, attending as an exhibitor is still a line item in the budget.
That's the reality of bridal fairs. For it to make sense as an exhibitor, the returns in terms of bookings and sales have to far outweigh the costs associated with your involvement in the wedding trade show.
Yet you'll find no shortage of wedding trade shows, and each one seems to have good attendance in terms of those getting booths at the event.
EXPENSES TO EXPECT
So how much is an exhibitor expected to shell out in terms of expenses when joining a bridal fair?
First off is the cost of renting booth space at the event. "10 years ago, the cost of one of our two-by-three-meters booths was Php14,000.00," says Summer Reyes-Carullo, Project Manager of the Before I Do Bridal Fair, which regularly has its trade shows at Megatrade Hall, SM Megamall.
"Now, the same booth space goes for Php28,000.00", but can even go upwards of Php40,000 with other wedding fair organizers," she points out.
Add to that the other costs associated with attending a bridal fair. "Don't forget– you're also going to invest in your booth design, your brochures and sales materials, your samples and giveaways, and your logistics," reminds Renzie Baluyut, owner and proprietor of Sofia's Cakes Tagaytay.
"You'll also be spending on your manpower for the day– specifically, their per diem allowances, as well as their meals and transportation," he adds. "And all your other promotion efforts– especially if your company is also running paid online ads or giving something away during the event."
With all these expenses, however, is it still worth it to join a wedding trade show? For many wedding vendors, the answer is still a resounding "yes".
According to Ali Eclipse, owner and proprietor of Diamond with Love, bridal fairs are still a great investment. In her experience, "mas malaki ang kikitain kesa sa gastos." ("We can make more than what we spend.")
And in terms of branding, people become more aware (of us because) unti-unti naiaangat ng pagsali sa wedding fair ang brand namin bilang jeweler." ("By joining wedding fairs, our brand is able to slowly build its reputation as a jeweler.")
5 WAYS TO MAKE THE MOST OF YOUR BRIDAL FAIR BUDGET
For wedding photographer Ralph Alejandrino of Ralph Alejandrino Photography and Video Productions, a bridal fair is an opportunity for you to personally meet prospective clients.
"In this age of finding everything online," he explains, "some clients prefer to meet the supplier in person and physically see the output." Besides, "you can never email a handshake," Alejandrino adds.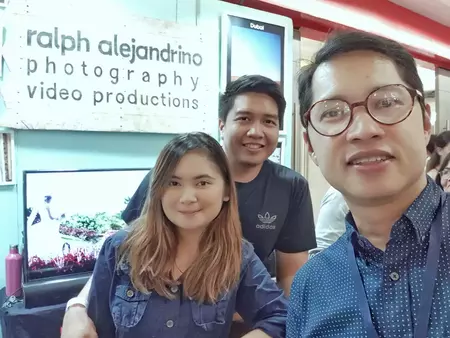 With that, here are five easy ways on how you can maximize your marketing budget when joining a wedding trade show:
1. MARKET MATCHING
First things first: find out if the crowd that visits the bridal fair is your target market. Because if the event in question doesn't draw in your brand's target audience, then you are just wasting your time, money and effort.
No amount of convincing will get anyone to sign-up with you on the spot if what you're offering is not what they need. Know your market. Know your client.
2. BOOTH-SHARING
If this is allowed by the trade show organizer, consider sharing a booth with another supplier that will compliment your services. Joining forces in this manner allows you to share the cost of the booth space and possibly even the cost of the setup.
Remember, different event organizers have different policies about this, particularly when it comes to costing and what you are allowed to/not allowed to do under this setup. So, it is best to coordinate with them to avoid misunderstandings or penalties.
Also: make sure you properly coordinate with the supplier who you wish to share a booth with for a more seamless, more complementary setup and design.
3. FLYER OR BROCHURE INSERTS
If the Organizer gives out eco-bags, magazines, or event kits to their attendees as they come in, ask if you can insert flyers. This frees you from spending money on booth space, decor, logistics, and even manpower.
The cost for doing so may vary from organizer to organizer, but you can expect flyer insert fees to range from Php5,000 to Php10,000. Flyer inserts with Before I Do costs around Php 7,000.
4. READY-TO-GO BOOTH SETUPS
Another way to save on booth construction, manpower, trucking, and even storage space is to consider ready-to-go booth setups.
This professional service has slowly been gaining popularity, and you even have options for further customization. There are booth stylists who can sit down with you and discuss what you intend to display; they will be happy to share their vision to help execute the brand message that you want to convey to your clients.
5. TRANSPORTATION AND ACCOMMODATIONS
Thanks to Metro Manila traffic, bringing your booth, all your materials, and personnel to and from the event venue has been even more stressful and problematic.
If the venue is a bit far from your home base, we suggest that you or your event staff check-in at the nearest transient hotel. This may be an additional cost but it will decrease your stress level in terms of travel time and anxiety.
Just imagine, you're tired the whole day from standing and connecting with people and you still have to drive all the way home and spend more than one or two hours on the road. When you get home, you'll only have a few minutes left to eat, freshen up, and get ready for the next day.
Come morning, you have to wake up early to beat the morning rush, eat breakfast and be at your booth ready to accept clients by when the event venue opens its doors once more.
BONUS TIP: SALES AND MARKETING COLLATERALS
Finally, here's a bonus tip from veteran wedding vendor-exhibitors.
When designing your event banners, flyers, brochures, standees, and other collaterals, create your sales and marketing materials in mind with the purpose of being able to use these even when you're not at a bridal fair.
Set your banners and standees by your office entrance or use it for a video shoot, give out your business cards at other vendor networking events, and distribute your flyers among partner hotels and establishments. These are just a few suggestions that allow you to further stretch your marketing investment.
WHY JOIN THE BEFORE I DO WEDDING AND DEBUT FAIR?
With almost forty bridal trade shows produced throughout the years, the Before I Do Bridal Fair continues to be a popular option among many wedding vendors.
"Worth it sumali kasi maraming bookings sa part namin," says Anna Loresco of Annasthetic Designs. "Marami ding inquiries na natutuloy sa shop magpabook. Kaya excited kami lagi pag fair." ("It's worth joining because we get a lot of bookings. We also get a lot of inquiries which we later close at the shop. Which is why we're always excited when there's a bridal fair.)
Aside from all the new business, Loresco says that she finds delight and fulfillment in being a part of their clients' big day. "Part of the space available for us during bridal fairs appears to be a chance for us in creating, from their dream ideas, how they will formally invite everybody dear to their special event."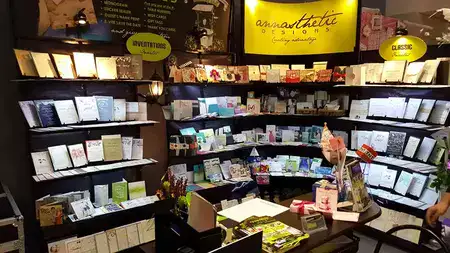 Diamond With Love's Ali Eclipse also says that the Before I Do Team is very easy to deal with and very organized when it comes to events management. "They are one of the first bridal fairs that helped us to become one of the top jewelry suppliers in the wedding industry because we met a lot of clients here," he shared.
"They ensure that there are equal opportunities for suppliers– not very crowded and really intimate," Eclipse adds. "They are also very friendly and approachable. Sir Alvin and Maam Summer are very kind and concerned about the sales and bookings of their exhibitors as they go around and check up on us if we have bookings already." 
Come and be part of the next Before I Do Bridal Fair Series. Click here to inquire