How To Plan Your Civil Wedding
Let's face it. It is every girl's dream to wear a wedding gown and proudly marry the man of her dreams. But getting married can be expensive and if you're a practical kind of girl, you would rather have an intimate wedding with just your closest family and friends or a civil wedding with just two witnesses or even just elope.
To get you started in planning your civil wedding, our friends from Simply Beautiful Events shared with us a guide on how you can plan a simple and yet meaningful wedding.
So what do you need to get married? There are only three requirements to get married: a marriage license, a solemnizing officer, and two witnesses.
Marriage license

When applying for your marriage license, be sure to have all your requirements ready.

Decide on your Solemnizing Officer

Any incumbent member of the judiciary is authorized to solemnize marriages within his court's jurisdiction (i.e. a Supreme Court justice could solemnize marriages anywhere in the Philippine while a Municipal Trial Court judge of Dagupan City cannot solemnize a marriage in Quezon City).
Any ship captain or airplane chief only in the case of marriages in articulo mortis (a marriage that is performed when either the bride or groom is at the point of death and unable to sign a marriage license application or certificate) between passengers or crew members, not only while the ship is at sea or the plane is in flight, but also during stopovers at ports of call.
Any military commander of a unit to which a chaplain is assigned. The commander could solemnize marriages in the absence of the chaplain or during a military operation. Likewise, in the case of marriages in articulo mortis between persons within the zone of a military operation, whether members of the armed forces or civilians,
Any consul-general, consul, or vice-consul in the case of marriages between Filipino citizens abroad. The issuance of the marriage license and the duties of the local civil registrar and of the solemnizing officer with regard to the celebration of marriage shall be performed by the said consular official.

Witnesses

You need at least two to stand by your side as a witness to your marriage.
It is that simple. That's all you really need. Just accomplish those three things and you're almost there.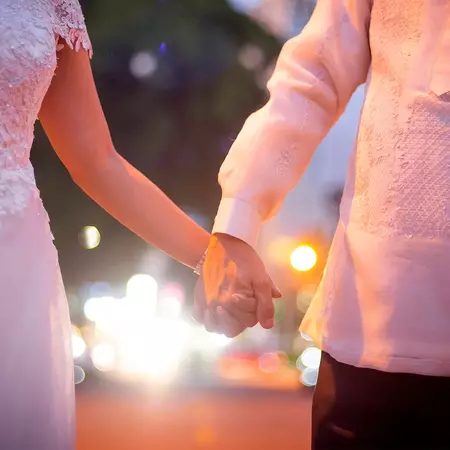 Below are some of the other things that you need to think about in planning your ceremony and reception.
When and where

Pin that date and book a venue where you can have both your ceremony and reception to make things more economical. If you would rather celebrate at a different venue and the budget allows it, then go for it.
Coordinate with your solemnizing officer when and where you plan to have your wedding.

Wedding bands

Simple wedding bands will do to symbolize your union.

Guests

It depends on you if you plan to have a small gathering (you and your witnesses only or with a slightly bigger group; with family and friends) and celebrate your union at a nearby restaurant or at home.

Miscellaneous

Gown, bouquet, souvenirs are not essential but something nice to have.